Archive for July, 2019
A group of college grad students travel to a remote Swedish village to visit the town's fabled mid-summer festival known as Midsommar. But, simple pageantry turns to pagan nightmares and ridiculously violent competition in the circle of life, this can't and won't end well.
Directed and Written by Ari Aster, this slow burning creepshow takes its full two hours and twenty minutes to torture and asphyxiate the audience into a midsommar stupor. And, while we're spoon fed the entire plotting of events in Pagan/Medieval screens on the outset, the actual events that lead to the film's final and inevitable conclusion are nothing shy of horrifically memorable. Beautiful in its cinematography and calculated scoring, hand wringing and cringe worthy moments wreak throughout, this rune-tastic cautionary tale of woe somehow also seems to have a hint of possibility, equally frightening. Positive marks to the entire ensemble, this art-house unsettler is sure to cast its spell on the unsuspecting. You've been warned. Midsommar is rated R…..for good reason.
Comments Off

on Midsommar
Following up after the events of Avengers: Endgame, "The Snap" and "The Blip," Spider-Man (Tom Holland) is trying his hardest to maintain a relatively low profile and live a "normal" teenage life. But, when Nick Fury (Samuel L. Jackson) comes knocking and recruiting, Peter Parker will have a hard time saying no, even while on a European vacation with his class. Saving the planet from the Elementals will require strategy of the utmost, Fortunately Quentin Beck (Jake Gyllenhaal) from a parallel universe has insight, or does he?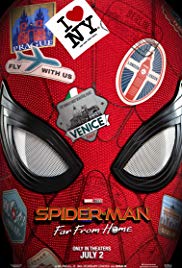 Directed by Jon Watts and Written by Steve Ditko, this thoroughly enjoyable foray into the teen angst of Peter Parker, MJ (Zendaya), and Ned Leeds (Jacob Batalon) makes for easy comic book popcorn chomping fun. And, while the overall script isn't terribly complex, the onscreen chemistry between Holland and Gyllenhaal is well crafted and believable. With a considerable amount of thought and creativity in the CGI department, Far From Home also boasts one of the more visually stunning homages to early cinematic history; creating battle sequences that draw on influences such as Fritz Lang, Orson Welles, and Alfred Hitchcock, the vertigo inducing spectacle is strong and fantastic. Scoring by Michael Giacchino is equally powerful. Coming in with a run time of two hours and nine minutes, Far From Home does stretch a tad long but still runs mercifully shorter than this summer's other Avengers property. Still a winner, Spider-Man: Far From Home is rated PG-13.
Comments Off

on Spider-Man: Far From Home