Archive for July 12th, 2019
Having lost his partner in the line of duty, LAPD officer Vic Manning (Dave Bautista) is a man on a mission to track his partner's killer and serve justice. But, timing is everything, and, as luck would have it, an important break in the case that Vic's been waiting for comes in the same day he undergoes Lasik surgery. Blinded and out of control; Vic, a passenger-less tractor of a man is forced to improvise and recruit his meek but resourceful Uber driver, Stu (Kumail Nanjiani), in order to catch his man. It's braun plus brains, let the good times roll.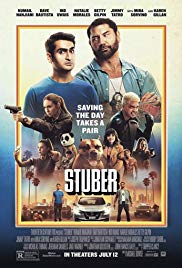 Directed by Michael Dowse and Written by Tripper Clancy this unassuming buddy cop romp takes the comedy factor to unexpected heights with fast and hard laughs from the word go; hitting off beats in just the right way, mixing comedic jabs high and low. Furthermore, the chemistry between Bautista and Nanjiani suits perfectly to play into each others strengths, physically and spoken. And, while the overall plot doesn't really do much to separate from the rest of the buddy cop pack, even falling a bit flat in the third act, we're charmed just the same, and, at a brisk 94 minutes of run time, welcome's are not overstayed. Just enjoy the ride, Stuber is rated R.