Archive for September 13th, 2019
One of the few survivors of a bombing at New York's Metropolitan Museum, Theo Decker (Oakes Fegley, Ansel Elgort) rises from the ashes to be taken in by a wealthy Upper East Side family. But, when estranged father (Luke Wilson) returns to claim Theo and bring him back to Nevada, the aspiring antiquarian is stopped in his studies; returning to New York a considerably more appealing fate. All the while, the harboring of stolen painting, "the Goldfinch," remains at the center of Theo's drive. How best to re-enter society for Theo and the painting hangs in the balance?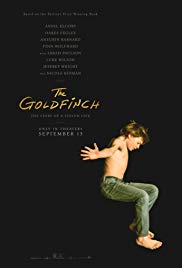 Directed by John Crowley and based on the novel by Donna Tartt, this kitchen sink showpiece bounces from past to present with an accomplished ensemble made up of adult and child actors to round out each time period; interestingly it's the youth who steal the show with significantly more impressive dynamic range and control, props to Oakes Fegley and Finn Wolfhard for their tortured youth incantation. Meanwhile, as the story sprawls in all directions like a deflated balloon, the overall wonder also manages to fall flat as our characters age and become wooden, disappointing for a tale of such epic proportions often falling to coincidence for convenience of storytelling. On the positive Cinematography by Roger Deakins is impeccable as always with consideration to light, color, texture, and creative angling. Maybe a matinee or rental if you don't want to play bladder busters, the runtime is two hours and twenty nine minutes by the way, the Goldfinch is rated R.
Comments Off

on The Goldfinch