Archive for October, 2019
Powerful Fey, Maleficent (Angelina Jolie), finds herself caught in a series of dilemmas as her goddaughter Aurora (Elle Fanning) accepts the wedding proposal of Prince Philip (Harris Dickinson); the pending nuptials could mean the merger of the human and fairy worlds, but, there's something awry about Queen Ingrith (Michelle Pfeiffer), this could all go sideways at any moment.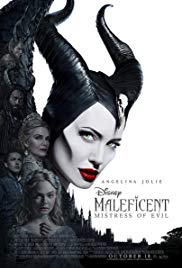 Directed by Joachim Rønning and Written by Micah Fitzerman-Blue, Noah Harpster, and Linda Woolverton, this continuation of the Maleficent lore does a fine job re-assembling the pieces of what was a lukewarm franchise to create something stronger on round two. Specifically, we're given a considerable amount of backstory on Maleficent, her raison d'etre, and, what makes her so special out of all the fairies, a move that leads to greater empathy and understanding– a quality somewhat absent in round one. From a fantasy standpoint, acting from the ensemble measures up just fine, the visuals continue to dazzle in all regards, and score from Geoff Zanelli seamlessly melts into the background. Disappointing, the story's lack of "justice" for a foe with historical roots to the brother's Grimm, a considerably nastier fate seems fitting, alas a PG rating and a pulled punch. Still, enjoyable for the whole family, but realize, the really young ones may need to sit this one out due to some of the darker themes and imagery.
Comments Off

on Maleficent: Mistress of Evil
While aiming to retire from his life as the nation's most effective sniper assassin, Henry Brogan (Will Smith) gets a tip that his final kill wasn't politically "clean." Now a hunted man Brogan will face his former commander, Clay Verris (Clive Owen), head of the Gemini black ops group. But Verris has a trick of his own, a cloned youthful version of Brogan to do his bidding– Facing off with himself Brogan Sr. will have to dig deep within himself to stop Jr..
Directed by Ang Lee and Written by a small army of writers, this technological marvel of a film is being touted as the next advance in filmmaking; essentially, a digitally fabricated actor, in this case, a computerized younger version of Will Smith to act against the real life Will Smith. The trouble is, while the technology has come leaps and bounds in the last 5 years, and we're very close, it's still not 100% flawless; especially for those knowing the "trick/gimmick." Lee's repeated cuts around live action to avoid showing his "digital hand" hearken back to films like The Parent Trap or Multiplicity, cheating the audience of fully framed action or conversations, and instead offering a reaction shot or just a hand in frame, a strange choice given the additional technical choice to shoot in 4k digital video at 120 frames per second. If you're going for flawless video, why not really showcase your digital actor and real life actor together on screen as much as possible and really make a splash? Dogging the film further, the curse of a flat story runs rampant, and unfortunately, thinly constructed characters just don't offer enough meat to really keep us invested in their well being, ho hum. On the positive, some of this year's best action sequences are captured in this otherwise yawn worthy narrative, so that's working for them. Perhaps wait for rental on this one, or, save your entertainment dollar altogether. Gemini Man is rated PG-13.
Comments Off

on Gemini Man
Profiling the midlife de-railing of Arthur Fleck (Joaquin Phoenix), a mentally ill man with an abused past, living with his aging mother (Frances Conroy), and working as clown for hire in Gotham city; Joker is also the origin story of Batman's greatest nemesis.
Directed by Todd Phillips and Written by Phillips and Scott Silver, this delve into the DC universe circa 1979, heavily influenced by a handful of cinematic masterpieces from the same era is a terrestrially bound mirror look to how the hard edges of society can crush a person's sense of self and place in the world. Important to note, this isn't a story designed to create sympathy or compassion for an evil character, rather, the focus is more so on empathy and understanding, offering insight to the whys and hows a complex individual comes to be. Shot with tender care, cinematographer Lawrence Sher captures the perfect darkening mood coupled with Art Direction from Laura Ballinger that feels truly connected to our world in a visceral and palpable way. Haunted further, score by Icelandic cellist Hildur Guðnadóttir unravels beautifully, slowly turning the screw from order to beautiful dissonance. And, with a massively nuanced and brilliant performance by Phoenix that draws deep on the physical and mental, there's no question this kickoff to awards season is starting strong with the Joker on the top of the deck. Not to be missed, this brutal examination of where our modern day "monsters" come from will be a conversation piece to say the least, here's to hoping that conversation is more aimed at empathy and less at inspiration. Joker is rated R…..for a reason.