Archive for October 18th, 2019
Powerful Fey, Maleficent (Angelina Jolie), finds herself caught in a series of dilemmas as her goddaughter Aurora (Elle Fanning) accepts the wedding proposal of Prince Philip (Harris Dickinson); the pending nuptials could mean the merger of the human and fairy worlds, but, there's something awry about Queen Ingrith (Michelle Pfeiffer), this could all go sideways at any moment.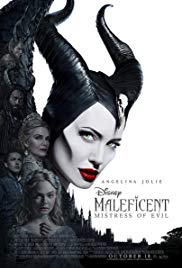 Directed by Joachim Rønning and Written by Micah Fitzerman-Blue, Noah Harpster, and Linda Woolverton, this continuation of the Maleficent lore does a fine job re-assembling the pieces of what was a lukewarm franchise to create something stronger on round two. Specifically, we're given a considerable amount of backstory on Maleficent, her raison d'etre, and, what makes her so special out of all the fairies, a move that leads to greater empathy and understanding– a quality somewhat absent in round one. From a fantasy standpoint, acting from the ensemble measures up just fine, the visuals continue to dazzle in all regards, and score from Geoff Zanelli seamlessly melts into the background. Disappointing, the story's lack of "justice" for a foe with historical roots to the brother's Grimm, a considerably nastier fate seems fitting, alas a PG rating and a pulled punch. Still, enjoyable for the whole family, but realize, the really young ones may need to sit this one out due to some of the darker themes and imagery.
Comments Off

on Maleficent: Mistress of Evil