Archive for November, 2019
Aiming to reach a younger demographic in the 1960's, the Ford motor company would hire now legendary car designer Carroll Shelby (Matt Damon) and driver/mechanic Ken Miles (Christian Bale) to create a car faster and more reliable than Ferrari to race at the 24 hours of Le Mans in 1966. But, success for team Ford would not come easy or at all if not able to first overcome corporate egomania as well as their own personal demons.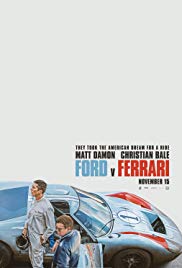 Directed by James Mangold and written by Jez Butterworth, John-Henry Butterworth, and Jason Keller, this richly entertaining historical drama is a classic example of a successful David and Goliath sports narrative, thick with drama, personal growth, struggle, and perseverance. Paired with ace acting from leads Damon and Bale, ridiculously choreographed and impressive cinematography from Phedon Papamichael, and minimalist but effective score by Marco Beltrami and Buck Sanders, the end result is an amazing confluence of events to create a two hour and thirty minute thrill that doesn't feel overstayed. Heading into the holiday season the cream is definitely rising to the top in this race around the track. Ford v Ferrari is rated PG-13.
Comments Off

on Ford v Ferrari
Dapper and deadly, con man Roy Courtnay (Ian McKellen) has his sights set on a new mark, wealthy widow Betty Macleish (Helen Mirren). But, in what should have been a simple swindle, it seems as though Roy's luck may have run out, or perhaps he's met his match? It's a cat and mouse chase, but who's the cat and who's the mouse?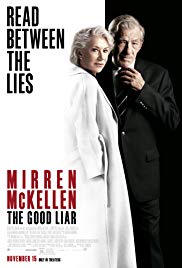 Directed by Bill Condon and Written by Jeffery Hatcher and Nicholas Searle this showdown of two cinematic juggernauts oozes fun and dramatic danger, with just enough Mac the Knife edge spiced throughout. Albeit a particularly dark turn in the final act strikes a forced feel story wise, and, score from Carter Burwell stands out less inspired and instead as more of an exercise in pentatonic scales, ho hum. Still, for the dash in their eye, and the whip of their tongue it's all about McKellen and Mirren, short comings are cast aside with spades of chemistry between the two leads, class is in session. The Good Liar is rated R.
Comments Off

on The Good Liar
A talented programmer and developer, Elena (Naomi Scott), discovers she's accidentally created a weaponizable feature to an otherwise earth saving technology. When the criminal world catches wind of this new "tech," it's an arms race that can only be stopped by a secret elite group of highly trained tactical female operatives, the Angels. But, consistently one step behind the bad guys, have Angels Jane, Sabina, and Bosley (Ella Balinska, Kristen Stewart, Elizabeth Banks) met their match?
Directed and Co-written by Elizabeth Banks this all out adrenaline rush to the end is a semi re-boot to the the franchise well known for it's female empowerment and can do attitude, successfully bringing the sass, action, and fun to the playing field largely dominated by men. In particular it's Stewart's time to shine, often a one note performer, her cut loose and quippy take on the Sabina adds the perfect left field frivolity to elevate the kick factor one tick louder. Combined further with sharp writing and excellent timing from the rest of the ensemble, this no holds barred take on the Angels is a blast to watch from start to finish in a fully packed two hours. Buckle up buttercup, it's worth the ride! Charlie's Angels is rated PG-13.
Comments Off

on Charlie's Angels