Archive for February 14th, 2020
Ski vacationing in the Austrian alps an American family is threatened by an avalanche. Surviving the event, Pete (Will Ferrell) and Billie (Julia Louis-Dreyfus) take a serious re-evaluation of priorities and desires, could this be their last vacation as a family?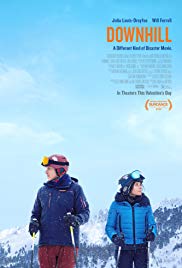 Written by Jesse Armstrong, Nat Faxon and Jim Rash, based on Ruben Östlund's screenplay Force Majeure (2014), Directors Faxon and Rash present this re-telling and re-packaging of an already well received foreign film creating a bit of a head scratcher. Specifically and sadly, a number of comedic and dramatic points appear to get lost in translation watering down the original story to something less than the original, and, American audience's may be additionally confused by the rather straight delivery from typically buffoonish Ferrell, especially with consideration as to how the film has been marketed (comedy over drama). Never the less, enough of the original screenplay does remain intact to hold structure and the endearing chemistry between Ferrell and Louis-Dreyfus sticks the landing, mostly. Furthermore, coming in at a scant 86 minutes of runtime, plans for the the second part of your date night might still need to be thought out, Valentine's planners beware. Downhill is rated R.