Archive for November 5th, 2021
In the Marvel Universe, at the dawn of civilization a race of super powered immortal beings known as the Eternals were sent to earth to protect humans from a species of creatures known as the Deviants. Now, thousands of years later, the Eternals have spread out across the globe living amongst the humans awaiting further instruction. But, it would appear their next marching orders may not be well received and the fate of earth will depend on their actions one way or another.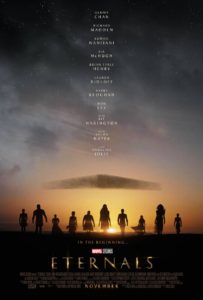 Directed by Chloé Zhao and written by Zhao, Patrick Burleigh, and Ryan Firpo this bloated saunter through the history humanity plays without creating significant empathy or reason to care for any of the star studded principals, an A list that includes the likes of Angelina Jolie, Salma Hayek, Kumail Nanjiani, Richard Madden, and Gemma Chan. Doubled with particularly lazy and lengthy exposition throughout, this two hour and 37 minute slog truly tests the increasingly short attention span of the human species. Further, challenged by less developed CGI, the special effects don't seem to feel as "special;" our expectations have been set higher and this feels particularly like a scrape of the bottom of the barrel. Eternals is rated PG-13.