Sherlock Holmes: A Game of Shadows
Holmes (Robert Downey Jr.) and Dr. Watson (Jude Law) find themselves at odds with each other on the night before Watson is to be married. However, their differences are quickly left behind as the diabolical mastermind Professor James Moriarty (Jared Harris) steps up his game to eliminate the duo and make millions by starting what could be World War 1. Now its up to the master sleuths to stop Moriarty and figure out his connection to gypsy fortune teller Madam Simza (Noomi Rapace), but could that mean the end of Holmes?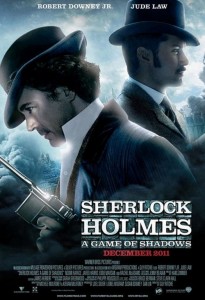 Directed by Guy Ritchie and edited with more of the same stylistic flair as the first installment, A Game of Shadows picks up nicely where the last film leaves off, but also stands on its own just the same. Albeit, this go round everything does feel louder and a bit more action, action, action, with fewer stop downs. At the end this did leave me a little hungry for a little more substance and I wish there was more of the pithy dialogue we've come to expect between Holmes and Watson. Still, high entertainment value, solid acting from our leads, interesting sound design and score make this more of a winner. It's big, it's boisterous, it's a bit bombastic, but it's still a value. Sherlock Holmes: A Game of Shadows is rated PG-13.