My Big Fat Greek Wedding 3
The Portokalos family heads back to Greece to honor the memory of their father and a family reunion, but, before you can say souvlaki the chaos ensues. Crossed wires and a classic comedy of coincidences exposes new family secrets, new relatives, new loves, and of course a wedding. Topping things off, it can only be done Grecian style.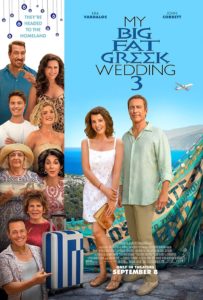 Written and Directed by Nia Vardalos this kitschy waltz down memory lane sets up for expected sit-com esque comedic delivery with a few unexpected twists along the way. Reuniting the cast we've already come to know including Vardalos, John Corbett, Andrea Martin, Maria Vacratsis, Joey Fatone, and Gia Carides, this completely harmless feel good film plays to its strengths and doesn't overstay its welcome with a brisk runtime of 91 minutes. Relatable for anyone who's come from a large family or wants to feel like they've come from a large family, this goofy look at family dynamics manages to bring some surprisingly heartfelt moments together. You could do a lot worse. My Big Fat Greek Wedding 3 is rated PG-13.