Years after his father's snap and break at the Overlook Hotel, Dan Torrance (Ewan McGregor), now a grown man battling a host of bad habits is met by a mysterious young pen pal who also shines, Abra (Kyliegh Curran). Meanwhile, a group of vampiric individuals known as The True Knot scour the earth in search of children who shine; looking to feast on their essence or "steam." So, when Abra discovers the Knot's existence, and likewise, they hers, it's a game of cat and mouse. But, ultimately stopping the True Knot's leader, Rose (Rebecca Ferguson), will take much more than the shine of Dan and Abra alone, perhaps the darkness within the Overlook will come calling after all?
Directed and Written by Mike Flanagan and based on the Stephen King's novel, this near perfect pairing to Stanley Kubrick's the Shining from 1980 continues the horror and further fleshes out the world for those who shine. Thoughtful casting and re-casting of several classic characters in the ensemble feels completely natural and not a star out of place, in particular performances from Ferguson, McGregor, and Curran hit the hammer on the nail with a resounding smash, loud enough to wake the dead perhaps. Exquisite attention to detail, Easter eggs included, and spot on art direction keeps the tangible horror tethered to the real world just enough to plant the "what if" bug deep enough. Careful attention to cinematography and editing, sometimes mimicking Kubrick's style, updating as necessary and required makes this easily re-watchable two hour and 31 minute descent into chaos a pleasure. Capping things off, exquisite scoring by The Newton Brothers nicely marries Hector Berlioz's Symphonie Fantastique (Dias Irae) (used extensively in Kubrick's the Shining) with a flair of their own, vanishing perfectly as a score should yet working on the audience one note at a time. Totally worth it. Doctor Sleep is rated R.
Comments Off

on Doctor Sleep
Thirty something Kate (Emilia Clarke) has lead a life of bad decisions, men, jobs, problems, one after another. So, when the dashing, funny, daring, and endearing Tom (Henry Golding) enters her life, a modicum of caution is forefront in her mind– it all seems too good to be true. But, perhaps for Kate a little of Tom's magic is all it will take to switch tracks in life and love.
Directed by Paul Feig and Written by Emma Thompson and Greg Wise this endearing romance/comedy certainly checks all the boxes for potential box office return by offering something the same but different. Specifically, starting with a story that loosely parallels A Christmas Carol, It's a Wonderful Life, and Fight Club, the reach of this holiday festivus is a broad net cast to reach a wide audience of romantics at heart. Meanwhile star power from Clarke, and Emma Thompson doesn't hurt the equation either. It's cute, it's fun, it's low in nutrition value, and that's okay. Maybe worth a matinee now or something to fold laundry to later. Last Christmas is rated PG-13.
Comments Off

on Last Christmas
Telling the story of Harriet Tubman (Cynthia Erivo), her escape from slavery to her transformation into one of America's greatest heroes, a leader along the underground railroad that saved and freed the lives of hundreds of slaves, changing the course of history.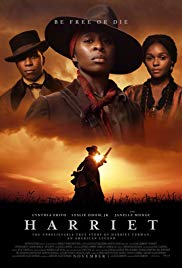 Directed by Kasi Lemmons and Written by Gregory Allen Howard and Kasi Lemmons this recounting of History adds interesting detail and context to Tuban's life, material often overlooked in basic history books, fleshing out her incredible path and how she accomplished much of her amazing work, often guided by god/voices. But, with an almost Walken-esque Dead Zone ability to see the future, the blur between supernatural and natural becomes a bit trying, sort of a one trick pony. And, despite the cast's strong list of assets, thinking powerhouses Erivo, Janelle Monáe, and Leslie Odom Jr. on vocals, it's only Erivo who gets the nod to sing throughout the film, a seemingly un-capitalized potential rings throughout. Furthermore, the film's score also manages to run flat by the end of this two hour and five minute tour, bummer. Perhaps worthy of a watch at home, and could have made an interesting mini series, this story and production still needs a bit of re-working overall. Harriet is rated PG-13.