Traveling across the country of Japan on a bullet train bound for Kyoto, Ladybug (Brad Pitt), is a man for hire on a simple snatch and grab mission to recover a briefcase. But, as events go sideways it would appear he's not the only hired hand on the train. Speeding towards the final destination the carnage on the train ensues, but who's actually pulling the strings, and what does the White Death Kingpin (Michael Shannon) have to do with all aboard?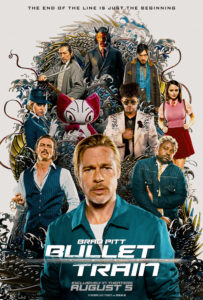 Written by Zak Olkewicz based on the book by Kôtarô Isaka and directed by David Leitch, this Summertime testosterone fueled romp leaves the station at full speed with impossibly choreographed fight sequences, witty enough dialogue, and, a ridiculous enough gumshoe anti-hero as a paint by numbers popcorn chomper. Big stars, check, big action, check, mindless plot, check, Sandra Bullock, check, train that has to speed up, check, punk rockin' foreign soundtrack, check. I think you get the idea, not to be taken seriously, and not looking for serious accolades, it's all aboard for goofy action from start to finish, woo woo! Check your brain at the door and enjoy the ride. Running two hours and six minutes, Bullet Train is rated R.
Comments Off

on Bullet Train
In the mountains of California the Haywood family of horse trainers discover they're not alone at their remote country ranch setting. For OJ (Daniel Kaluuya) and Emerald (Keke Palmer) the discovery could be double edged, fame and fortune or certain death, seeing and being seen could both have drastically challenging implications. Will the Haywood family legacy live on or be lost to history?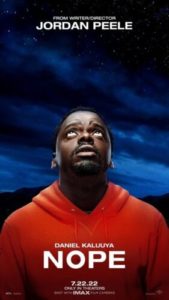 Written and Directed by Jordan Peele this Sci-Fi/Horror adventure into the unexplained serves as another win for Peele in his subtext rich examinations on society. Concepts of being seen and what it is to be minimized, marginalized, and belittled on multiple levels all through the guise of an extraterrestrial visitor, to that end a wickedly smart commentary. Although, perhaps not the most complete in connecting all of the dots or concepts for the viewer, which could arguably be done for artistic interpretation, but could also be seen as incomplete and lacking payoff. Regardless, there's plenty to chew on and digest conceptually, and, with visuals from cinematographer Hoyte Van Hoytema along with ethereal and moody scoring from Michael Abels this winner for the summer promises to stick with the viewer and spur discussion afterward. Running two hours and 15 minutes Nope is rated R.
A young woman, Kya (Daisy Edgar-Jones), growing up in the swamps of the deep South is forced to raise herself after a series of unfortunate events leaves her alone at the family homestead. Considered an outcast to the public Kya faces further ridicule and accusations of murder when a dishonest suitor, Chase Andrews (Harris Dickinson), turns up dead. Clearing her name in society and the eyes of the law will take the kind guidance of lawyer Tom Milton (David Strathairn), but, will the efforts be enough, or will Kya lose everything she's ever worked for including her freedom?
Based on the wildly popular book by Delia Owens with Screenplay by Lucy Alibar and Directed by Olivia Newman, this dramatic legal whodunit unfurls with hints of Matlock, Perry Mason, and Columbo all through the eyes of a woman challenged and unaccepted by society successfully commuting viewers from start to finish in what feels to be a genuine and "rewarding enough" story. Albeit, the sentimentality and overall feel has a particular Hallmark Movie quality, but, embracing that, there aren't massive false steps along the way, and, while some may be hoping for a barn burning hot romance, this lighter romance and heavier drama has enough heart to keep things interesting. Solid enough for a matinee this two hour and five minute journey doesn't overstay welcomes either, Where the Crawdads Sing is rated PG-13.
Comments Off

on Where the Crawdads Sing