It's Christmas eve and the world is aglow, yet, it would appear Santa (David Harbour) has lost his Christmas spirit, embittered by a world of greed and spoiled children. But, whilst stopping at the Lightstone family compound Santa finds himself in the middle of an elaborate estate robbery by a fellow who calls himself Mr. Scrooge (John Leguizamo). Now, tethered to the property Santa makes it his goal to protect young Trudy (Leah Brady), as it turns out, Father Christmas previous to his career as the Jolly Saint Nick was something akin to a Northman and he's here for blood. Christmas Eve is set to be one Violent Night.
Written by Pat Casey and Josh Miller and Directed by Tommy Wirkola this romp down a bloody candy cane lane leaves no mystery in its intentions. It's comic book justice and pulp on a thinly veiled story about family and finding the true meaning of Christmas turbo injected with testosterone and extra sledge hammer. Is this high cinema, no, not a chance, but that isn't what it promises to be either. Harbour, aptly cast as the middle aged brawler effectively chews the scenery and delivers the knockout blows one swing at a time in an oddly endearing Santa magic kind of way. The overall take, the film delivers exactly as advertised, fun, blood, guts, and good cheer. If that's your thing, this film is your thing. Ho ho ho. Violent night is a swift hour and fifty two minutes long and rated R.
Comments Off

on Violent Night
Growing up in a post World War II nuclear family structure, Sammy/Sam Fableman (Mateo Zoryan, Gabriel LaBelle) discovers his passion for the art of filmmaking at an early age bringing joy and wonderment to all around him, but, when a family secret is uncovered by his camera's lens, an internal conflict begins to grow, pushing young Sam away from the craft. Learning to reconcile with his own truths through his art will be the challenge, will he persist, or will he let it all pass?
Directed by Steven Spielberg, and Written by Spielberg and Tony Kushner, this loosely autobiographical coming of age story feels endearing, genuine and particularly personal to Spielberg leaving the audience with a smile and handful of chuckles as we're given a slight peek behind the curtain of one of the greatest story tellers of our time. Cast with heavy hitters Paul Dano, and Michelle Williams as the parental figures, Seth Rogan as family friend "Uncle Bennie," and Judd Hirsch as Uncle Boris, the cast feels palpable and real, Hirsch in particular wins the vote for "most interesting supporting character." Score from cinema music legend John Williams elevates the film just the same, this go round without the massive anthemic pieces, but instead a more introspective and delicate touch. Spielberg has clearly poured his heart into this work and all parts and pieces have followed his rising tide. Running just a tad long at two hours and thirty one minutes, this is your family friendly gem for the holiday. The Fabelmans is rated PG-13.
Comments Off

on The Fabelmans
Mourning the death of King T'Challa, princess Shuri (Letitia Wright) finds herself buried in her work as a distraction. Meanwhile, the nations of the world have become envious of Vibranium, the prized metal closely guarded by the Wakandans for its immense potential and abilities. So, when a bizarre attack on a Vibranium discovery vessel in the Atlantic leaves more questions than answers, the UN has many questions for Queen Ramonda (Angela Bassett). As it turns out, there's another inhabitant on earth closely guarding a second repository of Vibranium, the people of Talokan. Now, the two superpowers, Wakandans and Talokans, will have to sort their differences and find mutual agreement on terms, or, find themselves in battle against each other to a brutal finish, can a truce be found and met?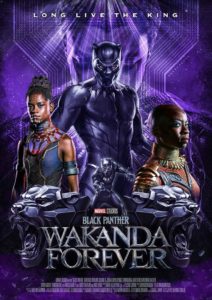 Directed by Ryan Coogler and Written by Coogler and Joe Robert Cole this dive back into the world of the Black Panther brings many elements to the table, including a touching and dignified handling of the passing of Chadwick Boseman, a concept which becomes the engine that drives the rest of the film forward, nicely done. And, continued efforts from the rest of the ensemble work nicely to re-create the magic of the Black Panther one more time, well choreographed battles, art direction, and immersive world building take the viewer deeper into Wakanda, to that, the pieces fit. But, considering the excessive runtime of two hours and forty one minutes, perhaps a more judicious razor could have tightened things up in the extra narratives and side panels; in this case, longer isn't necessarily better, just tiring. Regardless, the film is a solid vehicle for Marvel and a strong film overall for its emotional complexity and ability to be resilient. Black Panther: Wakanda Forever is rated PG-13.
Comments Off

on Black Panther: Wakanda Forever