Years after a High School mass shooting event, an arranged meeting between two sets of parents takes place to heal and find closure. But, finding forgiveness and peace will not come easy for any of the parties involved.
Written and Directed by Fran Kranz this remarkably moving and painful drama explores multiple layers of how and why we grieve, guilt, anger, and the importance of which memories of the deceased we carry. Deceptively simple in its construction this tour de force of acting allows for each of the four principles, Martha Plimpton, Ann Dowd, Jason Isaacs, and Reed Birney to each embody metric tons of empathy and compassion surrounding a subject that's become all too commonplace in America, and, expose multiple perspectives discussed less often in public. Breathtaking at multiple points throughout its hour and fifty one minutes of runtime, for audiences looking to feel something "real" this weekend, this is your ticket. Mass is rated PG-13.
Hailing originally from the Liberty, Kansas Evening Sun, publisher Arthur Howitzer Jr. (Bill Murray) has assembled a staff of crack writers for his publication The French Dispatch. A weekly report on the subjects of world politics, the arts (high and low), fashion, fancy cuisine/fine drink, and diverse stories of human-interest set in Ennui, France. At the time of his death, Howitzer Jr. left implicit instructions regarding future proceedings and what the last edition would contain, this is a detailed account of said contents.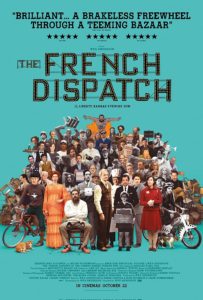 Written by Wes Anderson, Roman Coppola, and Hugo Guinness and Directed by Wes Anderson, this ridiculously detailed and hilarious glance through the looking glass at "Ennui, France, Planet Wes World;" features a well known cast of regular Anderson players including Benicio Del Toro, Adrien Brody, Tilda Swinton, Frances McDormand, Owen Wilson, Edward Norton, Jason Schawrtzman and many more, each character carefully picked and placed to embody what can only be described as a brilliant barrage of interpreted French ephemera. Sharp dialouge and visuals, as per the usual, demands and commands a second viewing to catch every nuanced detail. And, score by Anderson favorite Alexandre Desplat adds the extra cherry on top to bring this feature together with the perfect splash of whimsy and colour. This is an experience not to be missed, running one hour and 48 minutes, The French Dispatch is rated R.
Comments Off

on The French Dispatch
The noble family Atreides is entrusted with the protection of the harsh planet Arrakis, the source of spice, the most powerful and valuable asset in the known universe. Upon assuming power the Atreides make peace with the local inhabitants known as the Fremen only to be challenged by the opposing family Harkonnen resulting in destruction. Now, it's up to Paul (Timothée Chalamet), the son of Duke Leto (Oscar Isaac), and Lady Jessica (Rebecca Ferguson) to fulfill his possibly misunderstood destiny and become the savior of Arrakis.
Based on the Novel written by Frank Herbert with screenplay by Jon Spaihts, Denis Villeneuve, and Eric Roth and Directed by Denis Villeneuve this masterful and metered sci-fi experience beautifully captures its source material with a fantastically cast ensemble; an ambitious task that's been attempted several times to varying degrees of success. Thick with plot, setup, development, and rich visuals Villeneuve continues his streak of unrelenting cinematic magic for fans of the genre, this time teaming with cinematographer Greig Fraser, no stranger to galaxies far and away. Further punctuation on the film comes from Hans Zimmer's ethnically bending dive into the desert. This is the type of cinema that makes for a justified return to theaters (when safe to do so), see this on the biggest screen possible, although with a runtime of two hours and 35 minutes go easy on your beverage for obvious reasons. Dune is rated PG-13.