Archive for August 20th, 2009
Toe Thompson (Jimmy Bennett) leads a normal childhood, braces, bullies at school, and wild imagination. When Toe finds a magical wishing stone, his life goes from ordinary to extraordinary. But, as wishes are made, nothing ever seems to go right and the dark side to the wishing stone becomes more apparent. Realizing this, Toe and his friends Nose (Jake Short) and Loogie (Trevor Gagnon) set out to get rid of the stone. But will the boys be able to get rid of the stone before Toe's parents (Leslie Mann and Jon Cryer) and the nefarious Mr. Black (James Spader) take possession of the stone instead?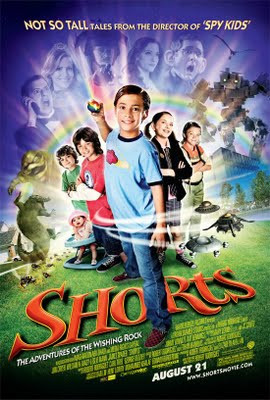 Told in a series of short films all stitched together in a youthful grindhouse fashion, Writer/Director Robert Rodriguez brings his quirky sensibility to the table once again but doesn't stretch his abilities. Specifically the script could have been a little richer in content and the humor could have been tiered a little better for adults; however, Rodriguez knows his child audience and mixes a fair amount of slapstick with Saturday morning cartoon flavour to provide a cute film. Not too surprising the child actors in this film are clearly still developing their sense of comedic timing and delivery whereas the adults all seem to perform at a higher caliber. A film for the family that has its moments but probably best as a rental later. Shorts is rated PG.
Roughly 20 years ago an alien invasion occurred in Johannesburg South Africa. An alien ship came to rest over earth. Nothing happened. The ship appeared to be parked with no signs of life, it just hovered. Months later a team of humans cut into the ship to investigate further only to discover a race of malnourished and sick working caste aliens. With no leadership present, perhaps due to plague, the aliens or "prawns" were moved to earth to live in a government camp known as District 9. Present day, the prawns are about to be moved to a new camp further from humans but troubles arise when Wikus Van De Merwe (Sharlto Copley), a sympathetic human, comes in contact with alien biotechnology.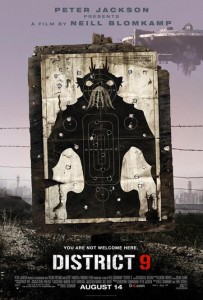 Brilliant, and impressive in all factors that matter: writing, acting, cinematography, and special effects. District 9 achieves what all sci fi films strive for in its deceptive simplicity– believability rich with allegory. Despite the fact that most films released in August are often considered bottom of the barrel or second rate, this is one not to be missed. Worth seeing in the theatres, District 9 is rated R.
Comments Off

on District 9