Archive for October, 2009
Before his untimely demise the self titled King of Pop, Michael Jackson, was preparing for his final concert tour of 50 cities. Leading up to the tour a camera crew followed Jackson, his artistic director, choreographers, dancers, and musicians to gather file footage of the process. With just days before final dress rehearsals and the tour kickoff in London, Jackson died at the age of 50. From the 100 plus hours of footage that was captured, This Is It breaks down to just about two hours of rare insight to Jackson's creative process, his genius, and in some cases his idiosyncratic behaviors. 
While the film isn't ground breaking or fresh in it's documentary style at all, in fact it's quite rudimentary, the big take away still remains just how amazing Jackson's entertainer mind was. Witnessing his attention to detail in every aspect of the production makes for ample inspiration for up and coming as well as current performers. And, from a technical standpoint the audience is given a behind the scenes peek that shows just how revolutionary and limitless Jackson's imagination was. Regardless of his past transgressions, if you have ever been a fan of Jackson's music, this film will not disappoint. This Is It is rated PG.
Comments Off

on This Is It
Based on the popular tween novels of the Saga of Darren Shan, director/writer Paul Weitz attempts to tap into the current vampire craze re-working the story of Darren (Chris Massoglia) and his best friend Steve (Josh Hutcherson). The two have been life long friends, but as adolescence kicks in a rift begins to grow. As tension builds, the mysterious and sinister Mr. Tiny (Michael Cerveris) begins to take interest in the boys. Before long the boys become two different breeds of vampire which sets the stage for a showdown between the Vampire and the Vampanese, but perhaps this battle can be avoided?
A busy script with almost too many moving parts makes the film a little cluttered, but decent production value keeps the shine on this imaginative work. An all star cast also adds to the fun including John C. Reilly, Salma Hayek, and Willem Dafoe. Overall the film fits nicely into the groove of a lighthearted Gothic flick that's more fun than scary or suspenseful. Sadly this may in fact be the film's undoing, unable to reach adult audiences and perhaps a shade to young for the teens in love with the Twilight series. Fun for a matinee, Cirque Du Freak: The Vampire's Assistant is rated PG-13.
Comments Off

on Cirque Du Freak: The Vampire's Assistant
Comedian Chris Rock takes on the enigmatic topic of women's hair, specifically African American women's hair in this informative and entertaining documentary. Examining the multi billion dollar industry from relaxers to weaves Rock probes to find out what it is that drives women to spend thousands of dollars on their hair every year, where hair care products come from, and where the latest trends originate. Eye opening, the film is well paced and balanced; and, with Rock's unique humor to add levity the end result is particularly interesting. Perhaps a good matinee option or rental, Good Hair is rated PG-13.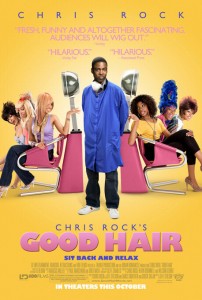 Comments Off

on Good Hair