Archive for February, 2010
Love is in the air for Reed Bennett (Ashton Kutcher), the owner of a florist service in LA. Not only is it Valentine's day, it's also the day he proposes to his girlfriend Morley (Jessica Alba).  Meanwhile young and old alike discover and rediscover what it is to love and be loved. But while business is booming and love is blooming not everyone is celebrating, for Kelvin Moore (Jamie Foxx) and Kara Monahan (Jessica Biel) the holiday holds a completely negative connotation. Cupid on the other hand may have a more devious agenda. In the end, the question remains who will stay in love, who will let it pass them by, and who will take the plunge?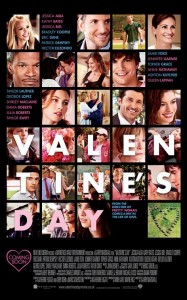 Multiple tales of love woven together with an extensive ensemble of actors including, Jennifer Garner, Bradley Cooper, Julia Roberts, Anne Hathaway, Patrick Dempsey, the list goes on and on. The star power alone of the film is enough to impress, and the story lines being told, while not entirely original, were crafted well enough to be entertaining. Hit and miss humor comes across as a win for the most part and the production value is decent. While this film won't be solving the world's problems or changing cinema history, as far as feel good romantic comedies go, it ain't half bad. A good matinee to take your sweetheart to this weekend. Valentine's Day is rated PG-13.
Comments Off

on Valentine's Day
Assistant to the U.S. Ambassador to France, James Reece (Jonathan Rhys Meyers), has aspirations of being a secret agent for the U.S. government. And, after doing a few odd cloak and dagger type jobs he's eager to do more; when Uncle Sam calls to "activate" him, James could be getting more than he ever wished for. Now required to assist his partner, the brash, daring, and unorthodox Charlie Wax (John Travolta), James is about to get a crash course in foreign espionage. But, who else might be using James for information, and, how far will he have to go to stop a suicide bomber from killing scores of innocent people?
Thinking good cop bad cop played out buddy drama? You'd be thinking right, but then there's the twist, it's set in romantic Paris; and, anything that takes the city of romance and juxtaposes twenty plus bad guys getting gunned down must be kind of edgy huh? Not terribly deep, but I suppose it was worth a shot. Overall the screenplay comes up predictable and stale. Attempts at comedy muster a few chuckles and a few groans and Travolta hamming it up is rather hit and miss. On the positive side, the action sequences take on an interesting sense of chaos that are surprisingly easy to follow despite the fast and frenetic pace. Probably best as a rental. From Paris With Love is rated R.
Comments Off

on From Paris With Love