Archive for May, 2010
After a warring family of Persians invades a holy city suspected of producing arms for another country, Prince Dastan (Jake Gyllenhaal) is framed for the murder of his father, King Sharaman (Ronald Pickup). Now an outcast, Dastan must try to convince his brothers of his innocence all the while trying to figure out what the ulterior motives are for the mysterious princess Tamina (Gemma Arterton). How will Dastan get into the good graces of his brothers and what of his Uncle Nizam (Sir Ben Kingsley)?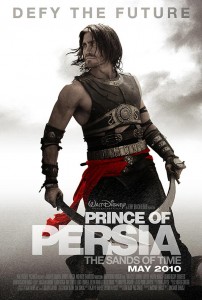 Granted, anytime you take a video game and try to come up with a story for the big screen you're already playing with some degree of fire; and, while the writers for this flick didn't completely fail, they could have done better. The film has this bizarre pacing thing going on, a lot happens in a very short amount of time, and the film is just under two hours long, yet somehow you feel like you've been sitting in the theatre for three hours… or more, weird. Decent enough acting from all involved helps the film maintain some balance. But I gotta say, the action scenes left me wanting more. In short, a number of the actors are supposed to be masters of Parkour, the art of leaping and bounding over staircases, buildings and obstacles. This would be cool, except director Mike Newell decided to shoot everything up close with a handheld camera which robs the viewer of the real awe and spectacle of what's happening. Bottom line this is the matinee film for Dads and kids while mom is at Sex and the City 2 this weekend.  Prince of Persia: The Sands of Time is rated PG-13.
Comments Off

on Prince of Persia: The Sands of Time
The beloved foursome, Carrie (Sarah Jessica Parker), Charlotte (Kristin Davis), Miranda (Cynthia Nixon), and Samantha (Kim Cattrall) are back together again. Last we saw the ladies their lives were all getting back on track and off to great adventures. Now two years later the four regroup to share the woes of motherhood, job stresses, relationship gripes, and the hurdles of menopause, all while placed in picturesque Abu Dhabi. But how will the gang handle themselves in a different and considerably more conservative culture?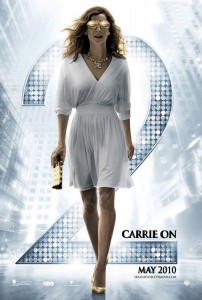 Now years since the first show ever aired on HBO, there seems to be little left for the actors to explore as fresh character development, a pattern that carries over to the rest of the screenplay as well. The end result is a storyline that just kind of sits there like a lump, we get an exotic location and that's cool, but nothing really seems to happen. The jokes are there, the fashion is there, the girls are there, but the overall magic, well, it's just not there. Does this make for a bad film, not necessarily, but it doesn't make for a great film either. A few kitchey moments also stick out like sore thumbs and should have perhaps been left on the cutting room floor, I'm thinking a karaoke scene and a final showdown with a mob of angry Arabs in particular; that might have brought the runtime to something a little less stinging than the already long 2 hours and 26 minutes. Maybe a matinee for the ladies, Sex and the City 2 is rated R.
Comments Off

on Sex and the City 2
Director Ridley Scott brings the latest re-telling of the tale of Robin Hood this weekend; this time offering the origins of Robin and his band of merry men. Told with selective historical accuracy the film begins in France with Robin Longstride (Russell Crowe), an archer in the army of Richard Coeur de Lion (Danny Huston), who returns England to tell of the king's death. Upon his return Robin travels to Nottingham to also make good on a promise made to a dying knight. When he arrives in Nottingham and reveals his identity to Sir Walter Loxley (Max von Sydow), Sir Walter makes in interesting proposition– assume the role of his son lost in battle,  in return he'll learn of his true past. To keep up appearances Robin is also to treat Marion Loxley (Cate Blanchett) as his wife. But, bigger forces are now at work as a group of Norman invaders are in England working to create civil war and weaken the English army. With a weakened army King Philip of France will then be able to overthrow the new tyrannical King John of England (Oscar Isaac). Perhaps Robin can be the uniting force to rally the country, but how will King John take to this natural leader and free thinker?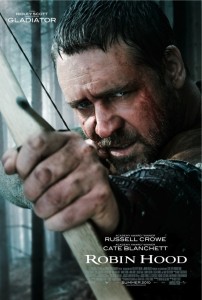 A fairly thick story that's a bit hard to follow with many moving parts seems to be the biggest downfall to what could be an interesting take on the legendary Prince of Thieves. It's as if there were so many ideas and sub-plots that needed to be told the writers just decided to put them all into a blender, hit frappe and pour them onto the page, a bit confusing to decipher to say the least. Meanwhile the acting is solid from all of the principals as one would expect, in fact Crowe, Blanchett, and von Sydow all hit home runs, it's just unfortunate they're given such cumbersome material to work with. Standard Ridley Scott close-up shakey cinematography for action scenes runs rampant through this film as well, except now, this just illicits a ho-hum instead of oh wow. A less imaginative score also seemed to detract from the film to boot, leaving this film feeling okay but not great. Maybe a matinee. Robin Hood is rated PG-13.
Comments Off

on Robin Hood