Archive for March, 2011
Continued tales of woe from the diary of Greg Heffley (Zachary Gordon), an undersized 7th grader just trying to get by. Now a little bit older and a little bit wiser Greg is starting to come into his own but also living in the shadow of his deviant older brother Rodrick (Devon Bostick). Meanwhile, the girl of his dreams, Holly Hills (Peyton List), seems so attainable yet still so far away. Pressing further, can Greg win Holly's affection and maintain a friendship with his oddball friends Rowley (Robert Capron) and Fregley (Grayson Russell); and, will Rodrick get to play in the town's talent show with his band Löded Diper?
Attempting to capture the magic of this loved book series for a second time might be a bit much this time around, but not a complete failure. I know, I know, that's not a great start, but you have to understand I actually enjoyed the first Diary of a Wimpy Kid despite its flaws and faults. Yet in this edition, while the actors seem decent enough for a wild and crazy kid's flick, the over the top nature of their direction and the overall screenplay felt cheaper and more like something akin to Nickelodeon or the Disney Channel. Thankfully, parental figures Frank and Susan played by Steve Zahn and Rachael Harris feel a little more fleshed out and believable and that helps counterbalance the offset a bit. Bottom line, you're looking at a fun matinee for the kids and maybe something parents will find cute and tolerable but not show stopping. Diary of a Wimpy Kid: Rodrick Rules is rated PG.
Comments Off

on Diary of a Wimpy Kid: Rodrick Rules
Graeme and Clive (Simon Pegg and Nick Frost) are two lifelong buds from the UK on holiday in the U.S.. While in the country the two self admitted nerds are busy checking out Comicon in San Diego, then on to tour some of the most noted extraterrestrial hot spots in the South West. But, as luck may have it the two are in for more than they bargained with when an actual alien named Paul (voiced by Seth Rogen) befriends them and asks for their help. Now it's a matter of evading the authorities and getting Paul back to his home. Will they succeed or will The Big Guy (Sigourney Weaver) and Agent Zoli (Jason Bateman) get their way and steal Paul's brain?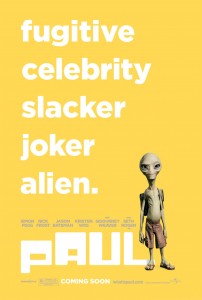 A love letter to the sci-fi community much the way their previous films Shaun of the Dead and Hot Fuzz have been done in homage to the horror and action communities. Writers Simon Pegg and Nick Frost continue to go back to their wells of influence and find fun ideas from old themes. And, while this may not be their funniest work, there's still enough that is consistently irreverent and is funny to keep fans happy. Supporting part picked up by comedic players such as Jane Lynch, David Koechner, and Jeffrey Tambor elicit chuckles by just appearing on the screen and then continue by delivering the goods as well. I'm thinking matinee, maybe more. Paul is rated R.
Defense lawyer Mick Haller (Matthew McConaughey) is as slick as they come, known for his ability to work the legal system and work miracles for the lowest of the low. But, when Mick takes on a new client, Louis (Ryan Phillippe), he begins to question what it is to be a defense attorney, especially when he learns his client is not only guilty of the crime he's accused of but also several murders. Now the question becomes how to keep his ex, Maggie (Marisa Tomei) and his daughter, safe.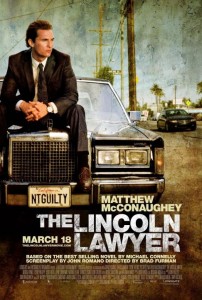 One part suspense, one part courtroom procedural, and one part Columbo and you've got the makings for a fresh script. Based on Michael Connelly's novel, this adapted screenplay plays well, breaks the audience's expectations of a surprise twist, and chooses to focus instead on telling a good story. Interesting and well acted characters keep the story moving forward– which proves it doesn't necessarily take explosions, car chases, shoot outs, or special effects to make a Hollywood based film succeed. Worth at least a matinee. The Lincoln Lawyer is rated R.
Comments Off

on The Lincoln Lawyer