Archive for May, 2011
The wolfpack of Phil, Stu, Alan, and Doug (Bradley Cooper, Ed Helms, Zach Galifianakis, and Justin Bartha) is back to quietly celebrate Stu's last moments as a bachelor, this time in picturesque Thailand. Of course, life's never that simple and the best laid plans turn sour when three of the gang wake up in a dirt bag Thai hotel with no recollection of what happened the night before; recovering from a drug induced rage they'll need to retrace their steps through the seediest underbelly bars and brothels before Stu's wedding bells chime. But what does Interpol want with the mysterious Mr. Chow (Ken Jeong), where's Stu's soon to be brother-in-law, and seriously, a chain smoking monkey?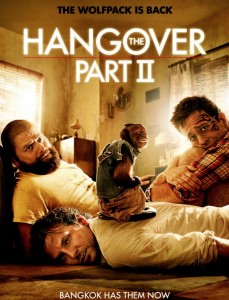 Let's not belabor this one, I'm not a fan. I was luke warm on the first Hangover, part II wows me even less, almost a note for note reproduction in a new location– the end. Except, the jokes and gags that were moderately funny the first time due to shock value just ring hollow and stale the second time. All
told, I think I laughed out loud once, chuckled a bit, and grumbled the rest of the time. Sorry dudes, the bridesmaids take this summer for wedding gag comedy. Maybe a rental later. The Hangover part II is rated R.
Comments Off

on The Hangover Part II
Since we last checked in, the Dragon Warrior panda Po (Jack Black) and the furious five (Angelina Jolie, Seth Rogen, Jackie Chan, David Cross, Lucy Liu) have been busy training and continuing to master their martial skills. Meanwhile, peacock, Lord Shen (Gary Oldman), has been plotting to claim the throne of China, a position denied to him years ago. Now with the science of gunpowder and weapons that could destroy Kung Fu practitioners, Shen's reign of terror might actually stand. Can the gang stop Shen before it's too late, and what of the haunting nightmares that are preventing Po from finding inner peace?
Top notch vocal talent and well plotted action and fun adventure keep this animated tale interesting. But, the humor department felt a little thin this go around with only a few laugh out loud moments. None the less, the film still entertains, and, for the most part functions as a stand alone feature with a positive moral to boot. I'm thinking matinee. Kung Fu Panda 2 is rated PG.
Comments Off

on Kung Fu Panda 2
Trying to sum up a Terrence Malick film in a few sentences is kind of like trying to write the step by step directions of how to ride a bike, it's hard to do. But, here goes, on the surface, three brothers growing up in the 50's learn about right, wrong, trust, and what appears to be the natural order of things; life lessons that will shape who they become when they grow up, for better or worse.
The actual film goes much deeper than this though as it's not structured so much as a narrative in a chronological order, but as many vignettes that speak to what it's like to be a kid, what makes us human, and where we've come from….I think. It's poetic, esoteric, enigmatic, harkening back to those existentialism
courses you took in college and will give you plenty to chew on if that's your bag. Otherwise it may be a bit too "out there" or pretentious for some, after all sometimes a banana is just a banana. That being said the performances from Brad Pitt, Jessica Chastain, Sean Penn and new comers Hunter McCracken, Laramie Eppler, and Tye Sheridan are downright astounding, loving, and gut wrenching at the same time. The Tree of Life is rated PG-13.
Comments Off

on The Tree of Life