Archive for December, 2011
So I'm getting really good at scheduling time off when zillions of films are due out in the theaters. This of course would normally mean that I either write everything waaaaay in advance, not at all, or give you a much shorter synopsis of everything. Considering that I've got enough on my plate as it sits, writing early isn't really in the cards, but brief reviews…heck I can do that. So here goes….In theaters this weekend there's lots going on, from family friendly to the polar opposite.
We Bought A Zoo
Matt Damon and Scarlett Johansson grace Cameron Crowe's latest film about a recently widowed man and his young family in search of a new start after the loss of his wife. That fresh start comes in the shape of a rundown zoo in desperate need of financing and good old fashioned elbow grease. With a fierce USDA inspector on their tails it appears that all will be lost, or will it.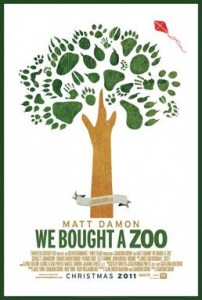 Not exactly the deepest or richest of screenplays, and it's not as though we're getting huge performances from our actors, and it's unfortunate that it isn't until the final third when we see Crowe hit his stride and strike the emotional chords in a way that only he can do. But there is a charm to the film that makes it worthy of a matinee. We Bought a Zoo is rated PG.
War Horse
Steven Spielberg returns to his directors chair in this WWI story about a horse named Joey raised by a young boy but sold to the British Army. Surviving by instincts, smarts, courage, and just plain luck Joey experiences both sides of the war. But will he live to see the war's end, and will he ever return to fields where he was raised as a colt?
Comprised of multiple vignettes detailing the horse's journey, Spielberg takes on an interesting angle of story telling– from the horse's perspective. Meanwhile we get peeks into the many lives this one single horse can touch, as seen from the human perspective. I can't bag on the acting, and I can't really be overly critical of the overall script, but, I can say this felt like a beast of a film in so much that it's practically two and a half hours long. I distinctly remember thinking about two thirds of the way through the film "Okay, when is this going to end? Let's wrap this up." I'm also not so sure that I really emotionally connected with the horse either, so despite being told/shown I should feel sentimental or inspired or whatever towards this creature, I really just didn't care. Still, as an example of a classic Spielberg grandiose concept film I suppose we can say it's worth about a matinee. War Horse is rated PG-13.
The Artist
A love letter to Hollywood of the 1920's and 30's. This silent film, and yes it really is silent….mostly, except for the score, depicts silent movie star George Valentin (Jean Dujardin) at the crisis point in his life where the talkies start to make their way into theaters. Feeling washed up George begins to spiral into depression; but, with the help of newcomer Peppy Miller (Berenice Bejo) and his trusty canine sidekick there may be hope yet.
Truly a fun experience The Artist works to show why and how the cinema began to capture the public's attention. Dash in a few modern touches and you've got a concept film that makes for a fun hybrid of old and new. From an acting standpoint I can't say you'll be moved to tears or anything of that nature, but the ensemble does do a faithful re-enactment of the period. And, for the classic dance routines, Dujardin and Bejo clearly spent a good amount of time rehearsing and it shows. Fun. Although, quick side note, if you're at all groggy this isn't the film for you (a few of the folks near me dozed off, I guess without dialogue that can happen). Still, worthy of a matinee. The Artist is rated PG-13.
The Girl With The Dragon Tattoo
Based on the wildly successful book series and a remake of the Swedish film of the same name, David Fincher takes a crack at this screenplay with a few modifications. In this anglicized version Daniel Craig, Rooney Mara, and Christopher Plummer make up the leads.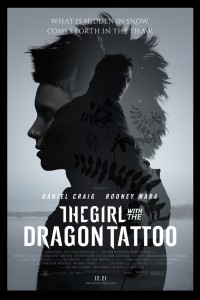 Trent Reznor takes up composition duties for the score here as well. In short, to my eyes Fincher has made a film that feels just as graphic and maybe more. It's clearly grittier, sexier, and just as strong as the original if not even a little better, and I liked the original. And for the James Bond fans out there, heed close attention to the opening credits which could fit in any 007 saga, all we need is Daniel Craig strutting on camera in a tuxedo and shooting a handgun to complete the picture. This is a winner. The Girl With The Dragon Tattoo is rated R.
Tinker Tailor Soldier Spy
Gary Oldman takes on the role as spy master George Smiley in this latest re-creation of John le Caree's book and the popular BBC miniseries of the same name. In the midst of the Cold War a Soviet mole has infiltrated the top of Britan's MI6. Secretly re-activated from retirement Smiley is tasked with uncovering the mole in the organization.
Powerhouse acting from John Hurt, Colin Firth, Mark Strong, and Toby Jones rounds out the ensemble. This is a thinker that almost begs to be watched more than once to really get a good handle on the story. Plodding along at what can only be described as "European pacing" Director Tomas Alfredson artfully reveals each plot point in a calculated and refreshing manner. Where American audiences have almost come to expect shaky cameras, wild chases, big explosions, and fast cars, Alfredson shows us that true spy films can be just as the spies are themselves, unassuming and effective. Worth your time. Tinker Tailor Soldier Spy is rated R.
Comments Off

on Holiday Weekend Film Wrap-up
Freed from prison, espionage extraordinaire Ethan Hunt (Tom Cruise) quickly finds himself and the rest of his I.M.F. team wanted by both the U.S. and Russian governments. Now it's up to Ethan, Benji (Simon Pegg), Jane (Paula Patton), and Brandt (Jeremy Renner) to clear their names and stop a Russian terrorist set on destroying all life on earth through nuclear warfare. Of course their mission will take them from Moscow, to Dubai, Mumbai and eventually end in Seattle of all exotic places; but, to what lengths will the team have to go through, outside of travel, to get their mission accomplished?
No doubt about it, this is an explosive weekend at the box office, and why beat around the bush on this one, this is a gem! The whole ensemble handles the source material with just enough humor dashed with bravado to make for a seriously enjoyable action/thriller with strong comedic overtones. Director Brad Bird strikes pay dirt with thrills and suspense that give the good old cliff hanger a run for the money. Punchy sound, and a loud and driving score with the all too familiar Mission Impossible theme adds to the fun. And, one of the most creative chase sequences I've seen in years finishes the film strong. Other films may have forgettable action, but this one will leaving you with points to talk about later. As fun as it should be, worth it. Mission Impossible: Ghost Protocol is rated pg-13.
Comments Off

on Mission Impossible — Ghost Protocol
Holmes (Robert Downey Jr.) and Dr. Watson (Jude Law) find themselves at odds with each other on the night before Watson is to be married. However, their differences are quickly left behind as the diabolical mastermind Professor James Moriarty (Jared Harris) steps up his game to eliminate the duo and make millions by starting what could be World War 1. Now its up to the master sleuths to stop Moriarty and figure out his connection to gypsy fortune teller Madam Simza (Noomi Rapace), but could that mean the end of Holmes?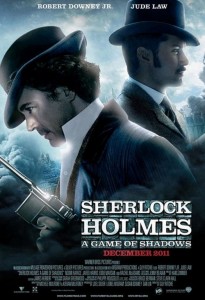 Directed by Guy Ritchie and edited with more of the same stylistic flair as the first installment, A Game of Shadows picks up nicely where the last film leaves off, but also stands on its own just the same. Albeit, this go round everything does feel louder and a bit more action, action, action, with fewer stop downs. At the end this did leave me a little hungry for a little more substance and I wish there was more of the pithy dialogue we've come to expect between Holmes and Watson. Still, high entertainment value, solid acting from our leads, interesting sound design and score make this more of a winner. It's big, it's boisterous, it's a bit bombastic, but it's still a value. Sherlock Holmes: A Game of Shadows is rated PG-13.
Comments Off

on Sherlock Holmes: A Game of Shadows