Archive for July, 2012
When the night watchman of a local Costco is mysteriously skinned alive while on duty the head manager of the store, Evan (Ben Stiller), is determined to get to the bottom of things. With the city's police department overrun with other problems Evan decides it's time to assemble the Neighborhood Watch. A small but eclectic mix of men answer the call, man's man Bob (Vince Vaughn), a militant nut case Franklin (Jonah Hill), and the reserved divorcee, Jamarcus (Richard Ayoade). Each dealing with their own personal baggage they're an odd bunch; but, oddly enough this boy's club of sorts might just have what it takes to solve some crimes, and bigger yet– fight extraterrestrial foes in the process. But ultimately how will earth make out?
Situationally predictable and a bit tired script wise, we clearly have a funny bunch of fellows who were allowed to riff and improvise in ludicrous ways, but sadly the magic just never comes together. Ultimately, I didn't laugh as much as I wanted to, and I actually had some mild hopes here, insert a sad trombone here. Production values all feel well budgeted, and the overall product looks slick, again, I just wish I didn't feel quite so let down in the laugh department. Maybe a matinee but really more of a rental. The Watch is rated R.
Comments Off

on The Watch
Emily (Kathryn McCormick), is an aspiring dance student and daughter of millionaire hotel developer William Anderson (Peter Gallagher), both have recently relocated to Miami. Upon her arrival she quickly falls in with Sean (Ryan Guzman), a server in one of Anderson's hotels. Secretly, Sean happens to be one of the leaders of "The Mob," a group of talented dancers and performance artists trying to make their mark on the City. Love is in the air; and, before long Emily and Sean are dancing up a storm, until news comes out that Mr. Anderson's firm plans to level the neighborhood The Mob calls home. Their relationship is on the rocks, The Mob in shambles, and still the question how to stop development? One word….DANCE!
Taking note that the screenplay for this dub step eyegasm was probably only about 30 pages long (short by all standards); it seems as though the writers, choreographers, and directors of this franchise have received the message loud and clear, MORE dancing LESS talking. This is a good thing, mainly because the acting from this ensemble is all so bad and written so poorly, it basically serves as a loose thread to tie one dance to the next; but, the dancing is actually pretty impressive and well shot. So, from an artistic point of view the film actually isn't half bad. If you can just get past the camp factor and urge to groan out loud you might actually let this one pass as a matinee. Step Up Revolution is rated PG-13.
Comments Off

on Step Up Revolution
Trishna is the story of Trishna (Freida Pinto) a commoner working hard to support her family living destitute in a small village until she's courted by the rich and dashing man, Jay (Riz Ahmed). Pushed and pulled across India, together and broken a part the two struggle to maintain a sense of societal acceptance. Between the power that is given and taken and Trishna's strive for independence all is not well, but what will truly set them both free?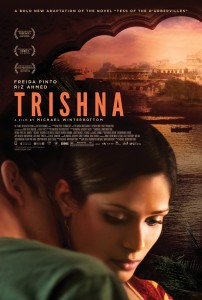 Admittedly, years ago I could barely stay awake reading Tess of the d'Ubervilles in my High School English Lit class. But, buried deep in my psyche were the words of my English teacher "What are you guys talking about? This book's full of sex and violence, you just have to look for it." Fortunately, in updating the story, the pomp, circumstance, and flowery language has been left at the door and indeed we're given an actor's film that has potential to show real depth with a fair amount of salacious details to boot. In this case, watching both Pinto and Ahmed twist, turn, and writhe around their own comforts and discomforts is truly a pleasure. And, while the film as a whole probably won't have the mass appeal as other blockbuster films currently out, those interested in seeing strong dramatic performances in the backdrop of a beautiful but foreign culture should take note. Matinee or rental, Trishna is rated R.