Archive for July 20th, 2012
Trishna is the story of Trishna (Freida Pinto) a commoner working hard to support her family living destitute in a small village until she's courted by the rich and dashing man, Jay (Riz Ahmed). Pushed and pulled across India, together and broken a part the two struggle to maintain a sense of societal acceptance. Between the power that is given and taken and Trishna's strive for independence all is not well, but what will truly set them both free?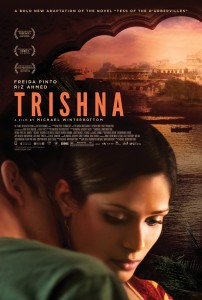 Admittedly, years ago I could barely stay awake reading Tess of the d'Ubervilles in my High School English Lit class. But, buried deep in my psyche were the words of my English teacher "What are you guys talking about? This book's full of sex and violence, you just have to look for it." Fortunately, in updating the story, the pomp, circumstance, and flowery language has been left at the door and indeed we're given an actor's film that has potential to show real depth with a fair amount of salacious details to boot. In this case, watching both Pinto and Ahmed twist, turn, and writhe around their own comforts and discomforts is truly a pleasure. And, while the film as a whole probably won't have the mass appeal as other blockbuster films currently out, those interested in seeing strong dramatic performances in the backdrop of a beautiful but foreign culture should take note. Matinee or rental, Trishna is rated R.