Archive for August, 2012
In the time of gangsters and prohibition, Franklin County Virginia may have been the wettest county in the world. In Franklin the art of moonshining was raised to a new level of refined spirits; at the top of it all was one family, the indestructible Bondurant brothers: Forrest, Howard, and Jack (Tom Hardy, Jason Clarke, and Shia LaBeouf). So, as the new deputy, Charlies Rakes (Guy Pearce), steps on to the scene and expects a cut of the action, the chess board is set for a bloody standoff. Witness to the mayhem are the women who love two of the brothers, Maggie and Bertha (Jessica Chastain and Mia Wasikowska), and the ingenious inventor Cricket Pate (Dane DeHaan). As the noose tightens, all associated are in danger, lawmen and outlaw alike. Who will prevail, and over what principles?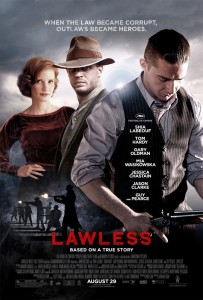 Based on the true story of the Bondurant family and adapted for screen by none other than the counter cultural phenom from down under known as Nick Cave and directed by John Hillcoat, this dark and moody period piece combines one part western, one part mob flick, two parts thick drama, and one part violence to make for a white lighting strength cocktail that will knock your socks off. And, while I had my reservations about LaBeouf they were quickly cast aside, surrounded by all the talent in this film including powerhouse Gary Oldman, LaBeouf's spotted past is clearly that, part of his past and not necessarily his future. The rest of the ensemble offer up nothing but gold. And, with sharp art direction and unsettling musical scoring from Cave, the rest of the picture rounds out to be one of the best this summer. Worth it! Lawless is rated R.
Two college frienemies, Katie and Lauren (Ari Graynor and Lauren Anne Miller), are financially forced to become roommates several years after graduation. Pressed further for cash the two discover the lucrative business of phone sex and it appears their money worries are over. But what about aspirations for other employment, hope for meaningful relationships with men, and ultimately the strength of their own friendship?
Co-written by Lauren Miller and Katie Anne Naylon and Directed by Jamie Travis, the end goal looks to be a situational and semi character driven comedy akin to female raunch comedies such as Bridesmaids. And, for a freshman attempt and considering the budget they were working with, the result isn't half bad. But, comedy is such a fickle beast, and giving an honest and convincing delivery can sometimes be a challenge, this is evident in several scenes. Part of this may be due to the fact that the crew relied more on scripted humor as opposed to improvised bits, which highlights just how difficult "strong" comedy is to come up with. Meanwhile, despite the shocking topic of phone sex, the rest of the film feels fairly rudimentary. All that being said, I'm looking forward to what this group comes up with on their next project as they hone their skill sets even more. Perhaps a matinee but really more of a rental. For a Good Time Call is rated R.
Comments Off

on For a Good Time Call
He is arguably one of the best protest folk musicians of the 1960's you've never heard of; and, in the early 1970's after putting out two poorly received albums he vanished in the United States amid rumors of an on stage suicide. Meanwhile in South Africa his music was exploding as apartheid was coming to a close. Nearly thirty years later two musical detectives would go in search of the artist known as Rodriguez, where did he go, what was the full story, what was his undoing? To their surprise, they were more than successful, while unearthing the truth they managed to actually find their icon, this documentary is their and his story.
A Cinderella story with a killer sound track, this absolutely unbelievable but true tale will have you smiling in disbelief at the wonder of how such things are ever possible. Somewhere between VH1's behind the music and rock solid story telling Director Malik Bendelloul hits chords high and low to evoke emotions you likely haven't felt in ages. A testament to how close but still so far away we really are, the mind boggles what further revelations are yet to come as the earth becomes increasingly more interconnected. This is a must see for fans of music. Searching for Sugar man is rated PG-13.
To hear clips of Rodriguez and Director Malick Bendelloul talking about music and the film, take a listen to this:
Sugarmanwrap
Podcast: Play in new window | Download
Comments Off

on Searching for Sugar Man