Archive for August 3rd, 2012
Douglas Quaid (Collin Farrell) is a factory worker living with his wife Lori (Kate Beckinsale) just trying to make ends meet in the Colony. Desperately needing a vacation Quaid decides to look into a company called Rekall; Rekall promises to help you live out your wildest fantasies and dreams, giving your mind the feeling of the actual experience. But, during his visit, it appears as though something is unleashed inside his mind, Quaid may in fact be a secret double agent working for the government and the Resistance. Not sure who he can trust Quaid becomes a man on the run, but is quickly picked up by his partner/woman from his dreams, Melina (Jessica Biel). Piecing his memory together bit by bit, Quid learns of his connection to the chancellor (Bryan Cranston) and the resistance leader Matthias (Bill Nighy), but again who to trust, what is real, and who is the real person inside his mind?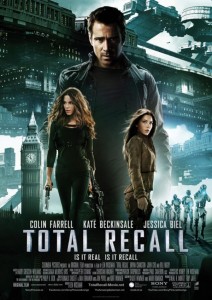 A "take two" of sorts, based/inspired by Phillip K Dick's short story We Can Remember it For You Wholesale. This time told in almost a Bourne Identity fashion, gritty, and packed with plenty of action, action, action, plus a thinly veiled plot. Fans of explosions, car chases, ridiculous fights with very little blood, and impossible getaways are sure to find plenty to enjoy. And really, for what it is, it is entertaining; a handful of nods to the Total Recall of 1990 provide a number of chuckles. It's not terribly thought provoking which may disappoint some, but is that really what we're after in a summertime popcorn chomping romp? And, yes, this time round we do get answers as to weather or not Quaid is dreaming or not. Acting from the ensemble feels on par, and really the whole thing feels pretty slick. Although, I'm not sure the film has enough soul to have the same memorable staying power (how ironic) as Arnold's first go at it. None the less, I still say it's worth seeing on the big screen, matinee or more….come on…turn your brain off and just enjoy something for the sake of cheap thrills. Total Recall is rated PG-13, despite a 3 boobed woman…go figure.
Comments Off

on Total Recall
There's a good chance you've never heard of the Chinese artist Ai Weiwei here in America. But there's a good chance you're already familiar with some of his work, for example the bird's nest design of the 2008 Olympic Stadium in Beijing, yup, designed by Ai Weiwei, okay interesting right? But, would you and could you imagine that the same artist would turn his back on that very piece of art, and subsequently the government that commissioned it? Would you believe that the Chinese government would attempt to silence such a prominent figure of their modern art culture? It would be hard to understand such a dichotomy right? Still, one thing is certain, Ai Weiwei has a message, a ten ton political lead weight of a message designed to wake up the world and inspire people to question what their government stands for.
Dense with material from start to finish documentarian Alison Klayman has spent several years with the artist to bring this story of inspiration and frustration to the eyes of the uninitiated. Yet, while the material is all fascinating fodder for discussion, and, it's clear that the artist still has plenty more up his sleeve to play with; unfortunately, the hook or angle to tell the story from seems to be lost in translation. In a way it's as though we've been given a time capsule, it's full of interesting artifacts, perhaps too many, and we're left to decipher what all's happening or why. Ultimately the film is interesting from a political standpoint and an artistic standpoint, I just wish Klayman told the story in a more compelling manner, a way that would make me want to dig deeper and learn more. Oh well, maybe a rental later for the art history buffs. Ai Weiwei: Never Sorry is rated R
Comments Off

on Ai Weiwei: Never Sorry