Archive for December, 2012
Based on Victor Hugo's novel and the Broadway production, Les Miserables details the life of Jean Valjean (Hugh Jackman), a man imprisoned for 19 years for stealing a loaf of bread who breaks parole but goes on to become a successful businessman. All the while hounded by lawman Javert (Russell Crowe), Valjean seeks to do what is right and good and ultimately ends up becoming an adoptive father of Cosette (Amanda Syfried), the daughter of Fantine (Anne Hathaway), a former employee of Valjean with a doomed fate. Meanwhile, as Cossette is coming into her own the unsuccessful June Rebellion is firing up, bad news for Cossette, her beloved Marius (Eddie Remayne) is leading the charge. Save the boy, save the girl, survive the rebellion, dodge the thieves and swindlers, and avoid the law, Valjean has his work cut out for himself, where will his fate be cut?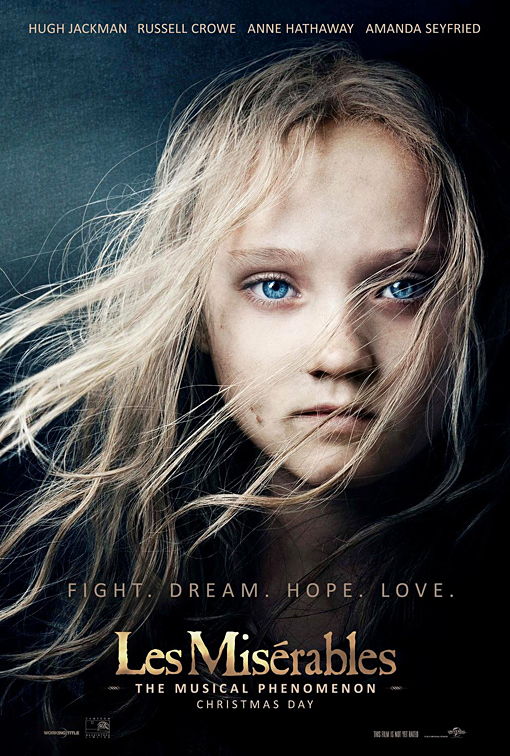 Straightforward directing from Tom Hooper brings the Broadway favorite to the silver screen with little variation from the expected; but, this is not to say the film is one and the same as the musical production, specifically, singing technique comes to mind. Where fans of the musical are familiar with a more operatic approach, the cinematic approach brings a closer miced sound, which can sound less impressive power wise but more intricate with diction. Both styles are accepted, but could take some getting used to. After that, the voices of each of the leads will probably prove to be the biggest sticking point for many, at times both Jackman and Crowe have tight and restricted voices which robs tone potential, meanwhile, Hathaway absolutely kills it with great tone and technique. Also of note, Samantha Barks as Eponine is a polished and perfect fit. Performances from Sacha Baron Cohen and Helena Bonhan Carter as Thenardier and Madame Thenardier are perfectly hammed up and sit just right. Overall art direction stays in keeping and visually interesting. Bottom line, while the sound of your favorite Mis tunes may take some getting used to, you could do a lot worse, worthy of a matinee and maybe even more. Les Miserables is rated PG-13.
Comments Off

on Les Miserables
After training for years to be a sniper in the U.S. Army and serve in Iraq, only to never be activated, a soldier is returned stateside to lead a "normal" life. The issue, he still hungers to fire his weapon and see the action he prepared for. Now accused of the murder of 5 innocent civilians, Barr (Joseph Sikora), doesn't stand a chance against the District Attorney (Richard Jenkins), and then there's Jack Reacher (Tom Cruise), a former military police investigator that already has a vendetta for Barr. But, as Reacher digs into the details surrounding Barr's case the bigger picture becomes evident, a masterful framing. Now for justice to prevail and what of defense attorney Helen's (Rosamund Pike) case? What lengths will Reacher have to go in order to stop the powers at the top?
Despite the heavy lacing of machismo, Mission Impossible, Bourne-esque thrills Cruise can muster, an enjoyable watch is still contained within. Formulaic? Yep, it is, but the raw nature, and gritty timbre gives us a slightly different vantage point than the expected polished Hollywood thriller. Confident Cruise carries the role as one would expect, and smaller roles from Richard Jenkins, Werner Herzog, and Robert Duvall all fit the bill nicely. Although, leading lady Pike seems to have had her character written hastily, not her fault, but never let it be said chauvinism is dead, at least not in this film. Regardless, you're looking for action, car chases, guns and explosions? Well you've come to the right place, just consider it all of the above with close to no nutritional value. Jack Reacher is rated PG-13.
Comments Off

on Jack Reacher
Turning 40 is a milestone that has often come with a great sense of dread. For Pete and Debbie (Paul Rudd and Leslie Mann) not only does the marker carry a weight of significance, but it also serves as a point of self reflection, leaving the two asking "how did we get to where we're at?" A snapshot of real life, its joys, tragedies, frustrations, and celebrations. Now feeling the pressures of life more than ever, will the two have the integrity to hold their family together, or will their relationship be cast upon the rocks of distress?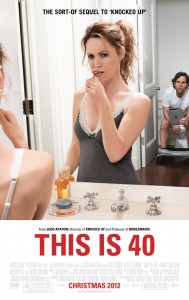 Written and directed by comedic game changer Judd Apatow, This is 40 serves up brutally truthful and relatable humor scene after scene. And, while the film doesn't offer what might be seen as a traditional story with a beginning middle and end, but rather serves as almost an episode or a few days in the life of, fans of Apatow's "tell it like it is" sensibilities will find plenty to sink their teeth into. Meanwhile, Rudd and Mann along with Jason Segel, Albert Brooks, and John Lithgow all turn in performances that feel honest, reacting as real people– people wanting to do right by each other, albeit sometimes misguided, but still with the best intentions. While the film does carry a longer runtime than most comedies, clocking in over two hours in length, the laughs still feel appropriate and present helping to erase this fault. Dramatic Comedic winner for the holidays. This is 40 is rated R.
Comments Off

on This is 40