Archive for April, 2013
Best friends Ellis and Neckbone (Tye Sheridan and Jacob Lofland) are two teenage river boys growing up in Arkansas. Out for an adventure the two come across an abandoned boat they claim as their own; that is until the two discover the boat is already occupied by a strange and superstitious man named Mud (Matthew McConaughey). As it is, Mud is a wanted man by the law and lawless bounty hunters, but it's his true love for Juniper (Reese Witherspoon) that keeps him going. Drafted into service Ellis and Neckbone team up with Mud to find Juniper, but the heat is on and re-uniting the couple will come at a cost. What's the price of love?
Written and directed by Jeff Nichols, a rich screenplay dealing with the complexities of love as viewed by young and old and the helpless romantic dovetails to a fine grain. Almost elemental of Jack London or Stephen Crane, Nichols captures a part of American Culture in his own unique way, telling a story of fathers and sons and again the constant desire we all have to love each other. Acting from the ensemble hums with resonance and feels genuine through and through. Totally worth your attention. Mud is rated PG-13.
A burnt out Floor Manager of a Fed Ex branch in Florida (Colin Firth) feels an intense disdain from his ex-wife and son. A failure he decides to fake his death and disappear to Terre Haute as a Golf Pro. To do this will mean changing his identity to an assumed name, Arthur J. Newman. But Arthur has a good soul compass inside, so when he discovers a mysterious woman named Mike (Emily Blunt) strung out on cough syrup, his instinct to help kicks in and the two become fast friends and lovers. Traveling from one city to the next it becomes clear both are running from themselves, but perhaps facing their own transgressions is the only way to become who they really are?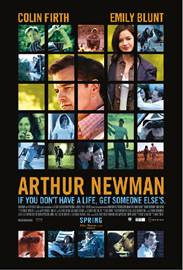 Strength in acting from this dynamic duo, Firth and Blunt bring their "A" game to the screen climbing into multiple personas. Giving further sustenance to this meaty but bitter story is Anne Heche who captures the uncomfortable role of Firth's girlfriend in Florida. Compelling source material keeps the viewer engaged with characters we actually grow to care about, all directed by the enigmatic new comer Dante Ariola. While not this weekend's biggest and flashiest film, those looking for smart cinema should heed regard for this gem. Arthur Newman is rated R.
Comments Off

on Arthur Newman
Missy (Amanda Seyfried) is slated to marry Alejandro (Ben Barnes), the adopted son of now divorced Don and Ellie (Robert De Niro and Diane Keaton). As family flies in for the wedding, including brother and sister Jared and Lyla (Topher Grace and Katherine Heigl), family drama and skeletons from the closet are brought out one by one. Of note, Bebe (Susan Sarandon), Don's new wife is forced to go into hiding to keep up appearances of an intact family for Alejandro's biological mother (Patricia Rae). As chaos reigns and this comedy of errors spirals further out of control, it's anyone's guess if the happy couple will ever make it down the aisle, lest their own in-laws destroy things.
So we're dealing with a romantic comedy, not exactly the pinnacle of cinema magic, but wait what's this? A romantic comedy with some grit in it's eye and enough saltiness and raunch to keep the audience on their proverbial toes. While the overall concept and storyline is a flat liner, the comedic razor is sharp enough to save this script from certain death, unless you prefer light hearted and clean family fun, in which case Chitty Chitty Bang Bang might be more your speed. More importantly it's the cast that saves this from becoming total dreck, it's clear fun was had while putting this together. Not to be taken seriously, but perhaps a dirty little date night flick? The Big Wedding is rated R.
Comments Off

on The Big Wedding