Archive for July, 2013
New Year's eve 2008 was a magic time for many in the Bay Area; a fresh start, a time to reflect, and a time to make positive resolutions. For 22 year old Oscar Grant (Michael B. Jordan), the past had been sordid but the future was looking bright, a caring girlfriend (Melonie Diaz), a beautiful daughter (Ariana Neal), and good friends. Sadly, the events at Fruitvale Station on New Years eve 2008 would change all of that. This is Oscar's story.
Poetically timed for release with the recent developments regarding the Trayvon Martin case still making headlines, Fruitvale Station serves as another glaring example of racial relations gone wrong in the United States. Written and Directed Ryan Coogler, effective storytelling is at play as strong character study and development fleshes out believable characters. However, it's clear that some degree of embellishment has taken place in the writing process to illustrate Oscar's trajectory and recent change in behavior. That aside, the overall artistry, subject material, and raw cinematography makes for what feels like an organic experience and a nicely shaped ensemble piece, let's not forget Octavia Spencer's performance, stout. Worth your time for it's dramatic strength. Fruitvale Station is rated R.
Comments Off

on Fruitvale Station
Haunted by tragedies he's suffered over his extraordinary life, Logan/Wolverine (Hugh Jackman), has chosen to live a life of seclusion in the mountains of Alaska. But, under duress Logan is summoned/lured out of hiding to say goodbye to a dying old acquaintance in Japan. During his visit, for the first time in his life, Wolverine becomes vulnerable both physically and emotionally; now facing his own mortality he'll have to do battle with Japanese Yakuza, Ninja, as well as his own personal demons. Meanwhile, guided by sisters Yukio and Mariko (Rila Fukushima and Tao Okamoto), Wolverine will perhaps find love and strength, but to attain both will also mean conquering the evil mutant Viper (Svetlana Khodchenkova).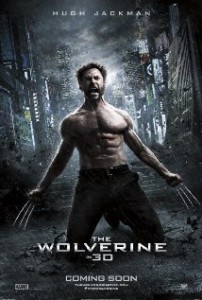 Head and shoulders above where the X-Men Origins: Wolverine left off, fans of the character will have plenty to sink their teeth into. And, without getting too heady, newcomers will be able to enjoy the film just the same with relatively few questions, nice. Of course Jackman continues to be the perfect carrier for the character, this go round having added on 25 pounds of muscle, a task that took him 6000 calories and 3 hours a day in the gym for 6 months. Equally impressive is the writing and direction this go round, a bit too much to follow at first, but stay with it and the whole picture does gain focus. On a few points the pacing did feel a bit slow, but while the overall film clocks in just over two hours, those same slower points are easy to let go. The final act is a little predictable but the teaser that's nicely tucked into the credits will totally jazz all followers of the franchise, awesome promises are on the horizon. For graphic novel fans, this here's a winner. The Wolverine is rated PG-13.
Comments Off

on The Wolverine
Brandy Klark (Aubrey Plaza) is the class valedictorian for her High School class, book smart, totally organized, and has it all together; except, Brandy is socially awkward and never had a boyfriend. When a chance encounter with Rusty Waters (Scott Porter) at a party leaves Brandy flustered, a mission and goal is set for her summer before college– to become sexually experienced before school starts, a list must be made. Meanwhile, lab partner Cameron (Johnny Simmons) has hopes and plans with Brandy of his own, and best friends Fiona and Wendy (Alia Shawkat and Sarah Steele) have their concerns as well. Sisters before misters or bros before hos, Brandy's objectives could cause serious conflict for the teens of Boise Idaho.
Written and directed by Maggie Carey, the film can easily be compared to American Pie or Super Bad, but from the female perspective and set in 1993, an interesting choice considering much of the language or concepts discussed are significantly more recent than 20 years ago, but let's not quibble about such issues. Instead, lets appreciate the quasi raunch/super graphic comedy of a film that celebrates a young woman taking charge of her own sexuality, in this case with few if any consequences (remember kids this is fiction, please be safe and make smart choices in real life). This is situational comedy with quick one liners offering a barrage of humor being delivered by some of Hollywood's best in comedic awkwardness, in addition to Plaza, the talents of Bill Hader, Christopher Mintz-Plasse, and Andy Samberg come to mind. Plus, with a solid musical soundtrack that spans the 90's, the Gen-X crowd will find a sense of familiarity. Bottom line, this isn't one to watch with your parents in the room, BUT, it is quirky, fun, and perhaps worthy of at least a matinee, maybe more, maybe friends first and then let's see where things go? You get the idea. The To Do List is rated R.
Comments Off

on The To Do List