Thwarted from completing in their youth, five mates from school reunite in their hometown of Newton Haven 20 years later to finish a pub crawl known as the Golden Mile. Lead by their fast talking, narcissistic, and incorrigible ring leader Gary King (Simon Pegg), the reluctant gang slowly move from pub to pub. Somewhere along the way, questions of identity, and personal freedom become an issue; but, before these deeper personal issues can be dealt with, the strange antics of the townsfolk need to be addressed. Finding the character and soul removed from their home town, it's apparent a homogenization is taking place, a wiping of the slate that could mean the end of humanity. Completing the Golden Mile has new implications, more than just a chance to relive their golden years, perhaps the final pub on their crawl, aptly named "The World's End" will have answers?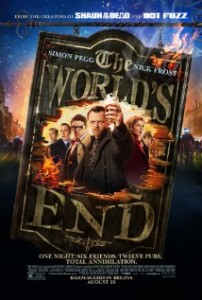 Serving as a third installment from the pairing of Director Edgar Wright, Simon Pegg and Nick Frost, The World's End follows a similar trajectory of plot development as previous projects Hot Fuzz and Shaun of the Dead– establishing a norm then shattering that norm in a comedic shower of twists and turns. In fact, in a recent interview Edgar explained that part of the inspiration for the film actually came around press time for Hot Fuzz, have a listen: Edgar Wright Explains
Pulling back the curtain further as to where inspiration for their characters comes from in the writing process, Nick, Simon and Edgar had a few thoughts as well: Where do characters come from?
It's clear the team really had fun putting this project together, drawing heavily on their personal experiences and their love for small towns; and, without giving away key elements, the unique nature of the story is sure to illicit laughs meanwhile leaving the audience stunned with rapid fire comedic dialogue. Oddly and unfortunately though, for all the fun, the final act seems to leave a rather odd taste afterword, not quite as rich as what seems deserved. Regardless, the first two thirds are sure to entertain and prove worthy of your entertainment dollar. The World's End is Rated R.
Incidentally if you'd like to hear my entire interview with Edgar, Simon and Nick, well….here's a treat for you. They really are a lot of fun to talk with: The World's End Full
Podcast: Play in new window | Download