Archive for October, 2013
Sheltered by her extremely religious mother (Julianne Moore), young Carrie White (Chloë Grace Moretz) is a social outcast amongst her peers. But, when classmate and popular hottie Sue Snell (Gabriella Wilde) take pity on Carrie, it seems as though Carrie might actually get to feel a part of the in crowd. Alas, mean girl Chris Hargensen (Portia Doubleday) has other plans of malicious intent. What no one knows though is that Carrie has been developing and training her own Telekinetic powers. With the playing field set, how will Senior prom turn out?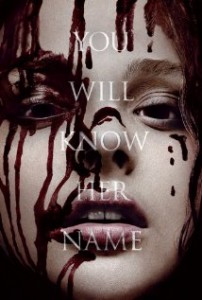 Reimagining the classic horror tale of the same name, Director Kimberly Peirce is clearly having fun with the concept, but offers little new to audiences. Meanwhile, one has to hesitate to really call this a horror flick since the scare factor seems relatively low, although creep factor from Moore is on overdrive, yikes. A relatively sluggish first quarter also drags momentum right out of the gates. Still, there's fun to be had and retribution to be paid back, oh the awkward teenage years, so fraught with hormonal confusion and haze, if only we could all develop the coping skills of telekinesis? Fun for what it is, maybe a matinee? Carrie is rated R.
Credited with hacking into the computer systems of NASA as a young boy Julian Assange (Benedict Cumberbatch) always stood out as a computer prodigy, an often un-regarded accolade; but, within just the last few years, that unknown boy has become the man behind the household name Wikileaks– the website credited with anonymously bringing down and exposing countless corrupt banking institutions and political figures around the world. Initially operating as an army of one, this is the story of Assange's orchestrated rise to fame and his few close partners in crime, namely fellow hacker Daniel Berg (Daniel Brühl).
Based on true events but written with the prose of someone who attempts to glean facts from tabloids, Director Bill Condon has managed to put together perhaps the most romanticized view of one of the least attractive social phonemes of the 21st century. To that end, scripting often feels clunky with awkward exposition in the guise of attempting to give insight into the mind of a world changer. And, while the actors all involved manage to present their characters in a believable light, it's unfortunately this same clunky exposition that drops the IQ of the viewer offering little new about the subject and instead essentially spoon feeds the audience a dramatization of Assange's wikipedia file. Meanwhile, the film barely touches on what might be considered some of the more important and recent details surrounding Assange's activities online and in person, i.e. involvement with Bradley Manning, and allegations of the rape of two women in Sweden. On the flip side, of note, some of the visuals used to depict and metaphor the Wikileaks business are rather interesting but not enough to carry the whole film. Oh, by the way, Laura Linney and Stanley Tucci make brief appearances but could have just as easily been left on the cutting room floor, hmmmm. More of a rental, The Fifth Estate is rated R.
Comments Off

on The Fifth Estate
Upon the threat of a stolen weapon being launched into space, the U.S. Government/President (Charlie Sheen/Carlos Estevez) hires the unkillable, unflappable, and downright deadly Machete (Danny Trejo) to put a stop to the madness. To take on the job Machete will need assistance from several friends old and new, Luz and Miss San Antonio (Michelle Rodriguez and Amber Heard). But not everything is as it seems in this bloody gambit of mayhem, weaponry and chaos. Also on the trail is the deadly assassin known as El Camaleon portrayed by Walt Goggins, Cuba Gooding Jr., Lady Gaga, and Antonio Banderas. It's a star studded massacre, but will Machete get his man, or will we find a setup to Machete Kills Again…In Space?
Thinly plotted, written and directed by grindhouse lover Robert Rodriguez, Machete Kills delivers exactly what sploitation audiences are looking for and expecting. Tacky jokes, irreverent action, ridiculous setups, gallons of blood, explosions o plenty, and heaving cleavage. What? You were expecting Pulitzer prize writing or Tolstoy level drama? I'm sorry…no I'm not, This is Machete, a story about a badass with a machete that avenges evil doers and fights for justice no matter what flag he's under. Albeit, runtime could have been cut a little shorter but Rodriguez keeps chopping for the jugular as if to say "you can't control Machete, Machete takes NO direction!" It's just plain nutty, and mildly worth sitting through the credits for, just go with it. Machete Kills is rated R.
Comments Off

on Machete Kills