Archive for December, 2013
Based on the true story of Jordan Belfort (Leonardo DiCaprio), a stockbroker and salesman who could talk you out of your underwear and sell them back to you, The Wolf of Wall Street is the harrowing tale of Jordan's rise to power and fall from grace when the federal government came knocking. Riddled with sex, drugs, and more sex, it's hard to see how a hedonist such as Belfort might have any time for government, but pay close attention young Jordan, your fate might still hang in the balance, or does it?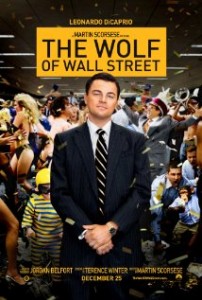 Connecting the darker side of Director Martin Scorsese with his lighter comedic half to create what might be the perfect blend of rockstar and absurdity The Wolf of Wall Street is like a cross country race: A dashing start out of the gates, followed by a slog through several mountain ranges of varying difficulty, followed by a sprint finish that saps any remaining energy– and DiCaprio has the energy and charisma to pull it off. And, big points to all for not shying away from seedy underbelly of Wall Street, cocaine, hookers, corruption, insider trading, warts and all; it's a sleazy ride that entertains as it informs. And yes kids, remember this is a Scorsese film, that means it's three hours long, skip that thirsty-two ouncer if you know what's good for ya! Totally worthy of your time though, The Wolf of Wall Street is rated R.
Comments Off

on The Wolf of Wall Street
Chronic daydreamer Walter Mitty (Ben Stiller) has been living inside his head for decades, a survival mechanism that that's given him the ability to get by. But, now faced with a job that's about to disappear, the woman of his dreams (Kristen Wig), and the opportunity to take a real adventure, Walter will have to pull himself together to truly start living; hopefully, there's still time for him to get his life on track.
Loosely based on James Thurber's short story, this 40 something coming of age tale has the ingredients to inspire, provoke, and engage the viewer into taking stock in their own life, provided they allow the door to open. Visually interesting and artistically composed Director Ben Stiller is clearly able to reach further than his comedic foundation and instead offer up something that satisfies the soul even deeper. Acting from the ensemble all feels on par, and yes that's Shirley MacLaine as Walter's mother and Sean Penn as Walter's white whale. Looking to feel good this holiday, here's your ticket. The Secret Life of Walter Mitty is rated PG.
Comments Off

on The Secret Life of Walter Mitty
Upon the death of the family patriarch, Beverly Weston (Sam Shepard), daughters Barbra (Julia Roberts), Ivy (Julianne Nicholson), and Karen (Juliette Lewis) rally to help their mother, Violet (Meryl Streep), who's slowly dying of cancer and addicted to pain meds. Sounds like a loving gesture on the surface; but, you'd be hard pressed to find a more dysfunctional family in all of Osage County. Meanwhile, the male partners (Ewan McGregor, Chris Cooper, Benedict Cumberbatch, and Dermot Mulroney) associated with each of the Weston women are just as troubled. Dissecting family politics one elephant at a time, who will be left standing?
A veritable acting tour de force; there isn't a bad apple in the bunch, and, based on the theatrical piece with a quality screenplay and fully dimensional characters Director John Wells has created a drama that will creep under your skin, linger, fester, and make you gasp for air in the claustrophobic confines of Osage County. The only question that remains, and yes it's trivial, why so many flannel shirts in August and why no beads of sweat? Still, this is a heavy weight and worthy of consideration, no doubt August: Osage County rhymes with award nominations, no it doesn't but yes it does, you get the idea. August: Osage County is rated R.
Comments Off

on August: Osage County