Archive for September, 2014
Eight years sober, former NY cop turned private investigator, Matthew Scudder (Liam Neeson) is hired by a high powered drug trafficker (Maurice Compte) to find out who kidnapped and murdered his wife. Step by step with patience and a little luck Scudder just might get close enough to what he's seeking; but, will he have the smarts, skills and courage to stare down his opponents or will they get the best of him?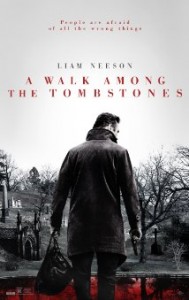 Adapted from Lawrence Block's novel, Screenwriter and Director Scott Frank has created a sufficiently creepy horror story to tell before bed; you know, the unnerving sort of story that sticks with you, the kind of story that reminds you of the evil that humans can commit for power or pleasure, or sometimes both. Throw in cinematography that prey's upon the psyche, extreme closeups, claustrophobic tight shots, and over the shoulder shaky-cam and you've got visuals to un-nerve the calmest cucumbers in the audience. And for casting, coming off of The Grey, Taken 2, and Non-Stop, Neeson's acting chops for this exact role are perfectly tuned, smart choice. Finally, in the music department, Carlos Rafael Rivera's haunting and beautiful melodies and cues add just the right amount of ambiance, flavour, and richness to the overall experience. Also of note, Black Hole Sun covered by SWANN featuring Seattlite Nouela Johnston in the film's credit roll is worth listening to for its dark beauty just the same. Strong weekend option. A Walk Among The Tombstones is rated R.
Comments Off

on A Walk Among The Tombstones
Brought together by the death of their father, the Altman family is forced to sit in shiva to mourn their loss. For the first time in ages Judd, Wendy, Phillip, Paul, and Hillary (Jason Bateman, Tina Fey, Adam Driver, Corey Stoll, and Jane Fonda) are forced to spend quality time together, digging into each other's personal lives, exposing each other's weaknesses, finding direction and purpose. Each family member will have tough decisions to make when they return to their normal lives; hopefully, as a family they'll have the strength to grow in positive directions?
Written by Jonathan Tropper and Directed by Shawn Levy humor, sardonic wit, sarcasm, and good old sibling rivalry rings true in this honest yet absurd look at the inner workings of a modern Atheist/Jewish family. And, while Bateman is definitely the focal point, it's the ensemble as a whole that sings, delivering the laughs rapid fire (sometimes so fast a pause and rewind button is necessary to catch everything). Well played gang, well played indeed. Here's your feel good film about dysfunction, relax it's all perfectly normal. This is Where I Leave You is rated R.
Comments Off

on This is Where I Leave You
Podcaster Wallace Bryton (Justin Long), a crass and morally challenged individual goes on assignment to Canada to interview the subject of an upcoming cast. But, once in the great white North things turn in a completely different direction when Wallace learns of a new potential subject, a strange and travelled old man named Howard Howe (Michael Parks). Determined to bring Howard's stories to light Wallace bites off more than he can chew. Now it's up to girlfriend Ally and co-host Teddy (Genesis Rodriguez, and Haley Joel Osment) and ex-cop Guy Lapointe (Johnny Depp) to track down Howard. But what about Wallace, will he have the strength to persevere and stand up to Howard, will he ever be able to cut loose his inner animal rage– it just might save his hide.
Originating as a germ of an idea from his own podcast, Tusk is Written and Directed by the moderately twisted and comedic mind of Kevin Smith. That said, dialogue is king, with literary references o' plenty and dark humor that pokes the horror/suspense genre in the eye repeatedly with a recipe of one part Misery, one part Silence of The Lambs, one part Human Centipede, and one part Wes Anderson. Acting all round is over the top and still spot on. Not a masterpiece by any stretch, but fun none the less. Go ahead, get in touch with your inner 15 year old, laugh at something grizzly, macabre, and inappropriate this weekend. Tusk is rated R.