Archive for January, 2015
Recently fired from his job in marine salvage, Captain Robinson (Jude Law) still has hopes of providing for his family and perhaps exacting some revenge on his former employer; so, when a fellow unemployed co-worker offers a get rich quick scheme right in Robinson's wheelhouse, perhaps the stars have aligned for once? Trouble is, the scheme involves a sunken Nazi submarine loaded with gold bullion on the bottom of the Black Sea, recovering this lost treasure will take a highly specialized team of salty dogs. Temptation, corruption, and the struggle to keep going in the face of the abyss, returning home a rich man might not happen after all?
Calling to question one's sanity at 100 meters below, Director Kevin MacDonald and Writer Dennis Kelly have crafted this little gem with significantly more heart than the average January release. Loaded with rich characters, and the right degree of wildfire troubleshooting, it's safe to say there's a good chance you'll catch yourself holding your breath in sympathy and plotting "what ifs" all the while. Humorous when it needs to be and gritty from the get go this fun escape delivers the thrills in a claustrophobic environment, simple but effective. Black Sea is rated R.
Comments Off

on Black Sea
With a marriage on the rocks and a young teenage son to raise, High School Classics teacher, Claire Peterson (Jennifer Lopez), is a at her weakest moment. But, timing is everything, and new neighbor Noah Sandborn (Ryan Guzman) is in the right place at the right time to catch and seduce Claire. Driven mad with passion, Noah's affection for Claire comes on strong and loud but a dangerous breaking point seems imminent. Can Claire appease the demon that is Noah, will she save her family, or will she be silenced and forced to live in a self imposed purgatory?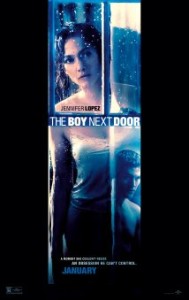 Directed by Rob Cohen, written by Barbara Curry, and produced by Jennifer Lopez this narcissistic "thriller" is not only poorly written, miserably and laughably acted, it's also horridly edited in what appears to be a cover up for lack of coverage whilst on set. Meanwhile, the film's overall plot is so telegraphed and anticlimactic, when we finally get to the 91 minute closing sequence, a gasp for fresh air feels mandatory. Not worth your movie dollar, unless you feel like looking at Mystery Science Theater fodder? The Boy Next Door is rated R.
Comments Off

on The Boy Next Door
Based on the life story of Navy SEAL Chris Kyle (Bradley Cooper) and his experience in the Middle East contrasted with his homelife stateside; Kyle's sniper eye is deadly accurate, but, with four tours of duty under his belt the ravages of PTSD can bring even the strongest individuals to their knees. Finding the strength to make it home to his wife (Sienna Miller) and kids will take all the tenacity he can muster, will it be soon enough?
Echoes and reminiscent of 1978's Oscar winning The Deer Hunter, Director Clint Eastwood takes a slight departure from his "Letters From" wartime format to focus on the very current, topical, and equally horrific military experience and the accompanying baggage that our soldiers bring back mentally. Emotionally detached at times, Eastwood's stark and unapologetic examination drives home just how devastating war is to both sides. And, Bradley Cooper, simply put, offers his best performance to date; this is powerhouse material through and through. Totally worth your time, American Sniper is rated R.
Comments Off

on American Sniper