Archive for July, 2015
Disassembled by C.I.A. Director Alan Hunley (Alec Baldwin) the Impossible Mission Force is forced to reckon with a mysterious Syndicate of evil operatives bent on gaining political and strategic power globally. Now, Ethan (Tom Cruise), Benji (Simon Pegg), Will Brandt (Jeremy Renner), and Luther (Ving Rhames) will have to outsmart, out muscle, and outplay their toughest chess master yet, Lane (Sean Harris). But what's the connection to the British Prime Minister (Tom Hollander) and the mysterious femme fatal Ilsa (Rebecca Ferguson)?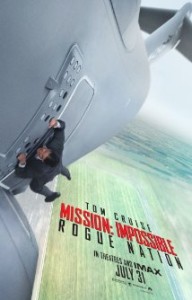 Directed and partially written by Christopher McQuarrie all the requisite parts of your standard Impossible Mission film are present; however, a revived sense of freshness is unfortunately absent. For all of the film's clever setup, its final bowtie feels all too convenient and tidy. Along the way to the finish line a loss of suspense falls into place; and, while thrills, chills, and spills aim to dazzle the end result is a relative shoulder shrug, you knew it had to go down this way. Still, a crash boom bang orchestra of action worthy of at least a matinee. This review will self destruct in 5 seconds. Mission: Impossible– Rogue Nation is rated PG-13.
Comments Off

on Mission: Impossible — Rogue Nation
It's been over 30 years since Clark Griswold (Chevy Chase) led his family, including son Rusty (Ed Helms), on a pilgrimage to Wally World theme park for a family vacation. In an effort to mix things up and add some spice to the annual family vacation Rusty has the idea to relive the classic Griswold road trip, this time with wife Debbie (Christina Applegate), and sons James and Kevin (Styler Gisondo, and Steele Stebbins); but, will this Griswold family trip be as ill fated as other historic Griswold vacations?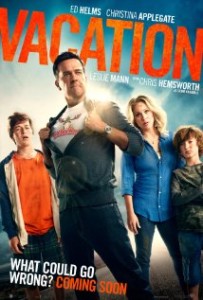 With a handful of nods to the Griswold family lore Director writers John Francis Daley and Jon Goldstein have a lot to live up to, taking a much beloved American road trip film and attempting to match it's comedic caliber pound for pound– hard to do. Unfortunately, the laugh quotient just isn't here, often leaning too heavily on gags from 30 years ago; and, rather than forging new territory, the film stays within a safe zone which doesn't prove terribly memorable. Sure there are chuckles, but truly laugh out loud moments seem strained. More of a rental, but really more skip worthy. Vacation mildly overstays it's welcome at 99 minutes of rated R runtime.
Broken down by rough life circumstances, undefeated Light Heavyweight Champion boxer Billy Hope (Jake Gyllenhaal) is forced to rebuild himself after losing his wife (Rachel McAdams) to tragedy and losing his daughter (Oona Laurence) to child protective services. Haunted by his former promoter (50 Cent) Billy turns to the one man possible of coaching him, the wounded but wise Tick Wills (Forest Whitaker). The rise to redemption will be a tough road to hoe, will Billy keep hope alive long enough to see the sun rise on a brighter future?
Directed by Antoine Fuqua this relative paint by numbers boxing tale written by Kurt Sutter is a bit of a mix-up featuring some good moves, some interesting moves, and some bad moves story wise. Leaving little to question and a modicum of suspense throughout, there aren't really surprises involved as we're walked from start to finish; and, in several cases, subplots are started but never finished or given the chance to justify their weight, strange. Obligatory montages and visions of lost love make for a chuckle inducing eye roll or two; but, interesting cinematography keeps the boxing sequences feeling real, claustrophobic, and intense. The late great James Horner's semi ambient score makes for a fine tuned accompaniment throughout as well. Meanwhile, in the acting department, both Gyllenhaal and Whitaker have some great scenes together, although when solo momentum is lost. All told, we're given a lot of emotion to chew on and some solid boxing sequences, but the downfalls of the screenplay make this less of a must see and more of a must rent. Southpaw is rated R.