Archive for August, 2015
Four lifelong friends from North Hollywood striving to get out and make their mark on the world learn life lessons and the meaning of irrevocable. One mistake away from greatness or total failure Cole, Mason, Ollie, and Squirrel (Zac Efron, Johnny Weston, Shiloh Fernandez, Alex Shaffer) will have to bond together and break apart in order to succeed. For aspiring D.J. Cole that will mean finding his own voice while caught between friends, his idol (Wes Bentley), and his idol's girlfriend (Emily Ratajkowski); rising to meet the occasion will take everything he's got.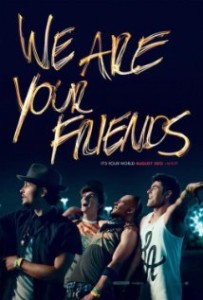 Directed and partially written by Max Joseph this relatively straightforward coming of age story sets up with some interesting promise and intelligent insight into the world of E.D.M. but ultimately falls prey to a plot line we've seen a million times before and better. Furthermore and sadly, at the film's apex an unfortunate ironic parallel is made, a much anticipated musical composition that's supposed to blow our minds crashes to the same fate as the plot line, what was interesting becomes just another dance track that thumps away, soulless. Still, the camaraderie and charisma of the ensemble keeps this film just above the horizon. Maybe a matinee but really a rental for mindless entertainment. We Are Your Friends is rated R.
Comments Off

on We Are Your Friends
A bio-engineered assassin named Agent 47 (Rupert Friend) is tasked with eliminating loose ends on the very project that created him. One of those loose ends happens to be Katia (Hannah Ware), daughter of lead scientist on the project, Litvenko (Ciarán Hinds). Meanwhile a mysterious syndicate has an agent, John Smith (Zachary Quinto), in the field for entirely different purposes. When all parties meet, the fireworks begin, who will survive, and who will be subject to their own nature?
Directed by Aleksander Bach, this creatively stunted project achieves a feel similar to its video game source material; plus, earns bonus points for weak dialogue, a half baked gambit and twist, and the immediate need for total suspension of disbelief. On the other hand, if you're the kind of person who enjoys watching others kick ass on a video game without getting your own hands dirty, you may be in luck. Can I offer you something stale just in time to finish off the summer? Chomp away and prepare to chew until your jaw is sore, this one will be hard to digest. Hitman: Agent 47 is rated R.
Comments Off

on Hitman: Agent 47
Set and based on the television series from the 60's, top agent to the C.I.A., Solo (Henry Cavill), and top agent from the K.G.B., Illya (Armie Hammer) are forced to work together despite their mutual disdain for each other in an effort to put an end to the plans of an evil superpower bent on developing, selling, and detonating nuclear arms. Meanwhile, the mysterious and alluring, Gabby (Alicia Vikander), works in concert with the two but has a few tricks up her own sleeve. Will the team succeed in their mission or will the black widow-esque Victoria (Elizabeth Debicki) and her crew outplay the united forces? Only time will tell.
Directed and partially written by Guy Ritchie, this stylized spy thriller pays great homage to one of the lesser known spy franchises of the mid 60's. Stiff dialogue with dry but well placed humor is sure to bring smiles to those in the know. Told with a lighter hand than previous work, Ritchie's cinematic vision to U.N.C.L.E. maintains his rapid pacing and lean screenwriting but has a broader reach than say the testosterone driven Snatch from 2000. Hammer, Cavill and Vikander as a team all compliment each other nicely in their roles, a winning combo for a follow up? Fun for spy lovers and those needing an escape back to when a spy spoke with panache and dressed to kill, worth your time. The Man from U.N.C.L.E. is rated PG-13.
Comments Off

on The Man from U.N.C.L.E.