Archive for September, 2015
Tensions between a mom (Kathryn Hahn) and her parents have kept precocious 15 year old Becca (Olivia DeJonge) and 13 year old Tyler (Ed Oxenbould) from getting to know their grandparents, Nana and Pop Pop (Deanna Dunagan and Peter McRobbie). But, when the opportunity to take a vacation and let the kids get to know their grandparents presents itself, perhaps old wounds can be healed? Trouble is, Nana and Pop Pop seem to be descending quickly, a week long stay might be seven days too long. What's really in store for Becca and Tyler, life lessons?
Written and Directed by M. Night Shyamalan, askew perspective and careful re-framing set up for great misconception, well paced tension, appropriate comedic relief, and a fun dark ride. Scripting consistent with Shyamalan's previous work, this film doesn't exactly explore new thematic material; however, the carrier (the geriatric and frail) does come as new and rich territory to mine. Looking for a scare that feels truly plausible, this might just be the ticket, and, for Shyamalan, an ascension from the dreck he's presented in his last few films. The Visit is rated PG-13.
Comments Off

on The Visit
Lainey (Alison Brie) and Jake (Jason Sudeikis), have spent the last 12 years of their lives in and out of relationships, nothing ever amounting to much but loveless sex. So, when another chance encounter brings the two together again, neither is at their best; yet, with time, a unique friendship is forged, will this be the relationship that sticks?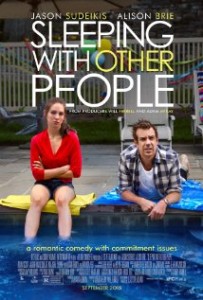 Written and Directed Leslye Headland, this sharply written comedy about love, sex, relationships, men and women punches fast and on target and survives largely on the strong chemistry between Sudeikis, Brie, and supporting actress Amanda Peet. And, despite a relatively slow third act, the sum of the parts still add up to a good time, perhaps earning a second date….Oh snap, see what I did there? Fun date movie and worthy of your time, Sleeping with Other People is rated R.
Comments Off

on Sleeping with Other People
Along the French Riviera a group of notorious crime lords have been running the show for about 15 years. But, when prostitutes Anna, Gina, Maria, and Qiao (Loan Chabanol, Gabriella Wright, Tatiana Pajkovic, and Wenxia Yu) are pushed to their final breaking point, destroying the empire and self extraction is the goal. Of course, it'll take the help of a Transporter (Frank Martin) to really stay untangled and free. What are the odds this will go well? Slim.
Written by a committee of five and directed by Camille Delamarre this poorly plotted excuse of an Audi commercial laughably goes through the motions of an action flick sans the sharp choreography, cinematography, and quality editing to really sell the spectacle. Mercifully the film clocks in at 96 minutes which will leave plenty of time to hit the bars and slug down a few stiff drinks to forget what travesty you've just witnessed. Pass all round, The Transporter Refueled is rated PG-13.
Comments Off

on The Transporter Refueled