Archive for November, 2015
In a land before time where dinosaurs walked the earth an Apatosaurus named Arlo (Raymond Ochoa) would be forced to test his mettle and return home after an epic journey across the mountains and plains. Guided by an odd human companion named spot (Jack Bright), Arlo will need to face his fears to become the good dinosaur he's always wanted to be.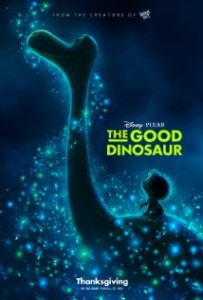 Directed and partially written by Peter Sohn, this Pixar adventure certainly lives up to and surpasses expectations in animation detail and texture to the point at times it's hard to believe you're looking at a computer generated image and not a real forest, field, or river; the bar of standards and expectations just keeps getting raised higher and higher. Meanwhile, the story itself doesn't exactly offer viewers a whole lot new, but, any time you can get Sam Elliot to play the voice of a grizzled T-Rex telling campfire stories, you can't be in that bad of company can you? A fine family ticket this weekend. The Good Dinosaur is rated PG.
Comments Off

on The Good Dinosaur
Illegitimate son of the late Heavyweight boxer Apollo Creed, Adonis Johnson (Michael B. Jordan) is churning on the inside and looking to create a name for himself in the fighting world; trouble is, no one on the West coast will train him. In desperation, Adonis travels to Philadelphia, home to his father's friend and rival Rocky Balboa (Sylvester Stallone) in search of help. Ego, pride, wrath and several other deadly sins will need to be shed before Adonis will rise to become the man he's destined to be, but will he be able to reach his goals before he loses everything?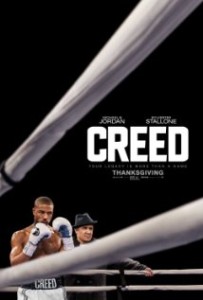 Directed and partially written by Ryan Coogler, the familiar tale of the underdog lives on and follows a similar trajectory as the much beloved Rocky 39 years ago. A little clunky in the romance department with a cliche and superfluous love interest sub-plot; this otherwise masterfully thought out story unfolds exactly as it should giving Stallone a chance to flex his acting chops in a way we haven't seen in years, meanwhile, Michael B. Jordan just keeps getting better and better. rich! Cinematography and choreography go hand in hand throughout this smartly composed dance of fists and fury drawing the viewer right into the center of the ring. Ludwig Göransson's score throughout is also a careful allusion to Bill Conti's original orchestrations around Rocky, but also maintains its own independence, well played. One of the year's best. Creed is rated PG-13.
As civil war within the districts of Panem escalates, reluctant figurehead and inspiration Katniss Everdeen (Jennifer Lawrence) helps to lead the march against the Capitol. Awaiting Katniss, President Snow (Donald Sutherland) has a whole new host of death up his sleeve; meanwhile, President of the revolution, Alma Coin (Julianne Moore) has motivations of her own to advance her players on the map. Will the efforts of Katniss, Gale (Liam Hemsworth), Peeta (Josh Hutcherson), Finnick (Sam Claflin) and the rest of crew of rebels have what it takes to finish the revolution or will all be lost within the war?
Continuing on his success from previous installments, Director Francis Lawrence brings the tension and action to a fevered pitch in this conclusion. With clear inspiration from the earlier Alien films, not a bad place to turn, and solid acting from the ensemble the film plays strong for the first two hours. However, as with other literary to cinematic conversions the Hunger Games anthology is prey to the unfortunate pitfall of not knowing when to stop and the final 20 minutes languish on, pacing becomes an issue, and the veritable cinematic marathon finishes on fumes, barely enough to get across the finish line. Regardless, enough does work overall and the built in audience who's followed along so far will not be disappointed. The Hunger Games: Mockingjay Part 2 is rated PG-13.
Comments Off

on The Hunger Games: Mockingjay Part 2