Archive for July, 2016
Former C.I.A. operative and special government project Jason Bourne (Matt Damon) has been out in the world, drifting, surviving, and staying off the grid for nearly 9 years. When a ghost from his past, Nicky Parsons (Julia Stiles) turns up with new information about the C.I.A.'s intentions past and present, Bourne is compelled to stop his former handlers, Director Dewey (Tommy Lee Jones) and newcomer analyst Heather Lee (Alicia Vikander); however, the agency has stepped up its game and called in a familiar spook (Vincent Cassel) to stop him. Will this in fact be Bourne's last chapter?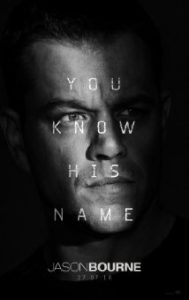 Directed and partially written by Paul Greengrass this latest installment in the Bourne franchise continues on a similar trajectory fans have come to expect; intense hand to hand combat choreography, crazy chase sequences on foot, by motorcycle, and by car, and unsteady and wild cinematography and editing. However, what appears to be missing this go round is the creative spark to significantly differentiate the film from the rest of the pack and multiple characters that exist within flat or near flat story arcs to create an overall absence of compelling drive. In particular, Stiles and Vikander's one dimensional scripting makes for wooden performances that just don't connect; meanwhile, Jones barely has to phone in for a paycheck in order to portray a grizzled and curmudgeoney authority figure full of piss and vinegar, Damon on the other hand continues to fit nicely into this aging role. In summary, for a popcorn chomping rip roaring action that doesn't leave much to hide you've got a winner, just don't expect the creative meter to be peaking this go round. Action date movie, maybe? Jason Bourne is rated PG-13.
Comments Off

on Jason Bourne
Three overworked and under-appreciated moms, Amy, Carla, and Kiki (Mila Kunis, Kathryn Hahn, and Kristen Bell) team up and break bad. Going against the grain the three find themselves in the crosshairs of the PTA president, Gwendolyn (Christina Applegate), after all, being being bad can have its consequences and face off is set in motion. Now, even in the midst of their rebellion the three will have to fight for their families, communities and school like never before, will they have what it takes to gain their much deserved respect?
Written by Jon Lucas and Scott Moore (The Hangover), this searing semi blue comedy takes a cast of well adept improv mavens and puts them work overtime cranking out this irreverent tale of redemption. And, while not particularly deep or poignant, for the women in your life looking for some simple escapism with relatable humor this might just be the ticket. Bad moms isn't out to change the world, nor is it a new page in comedy as we've seen from Lucas and Moore before, in fact it's a very simple and predictable structure; but, the bottom line is fun, and, this film has it. Maybe a matinee but more of a rental, Bad Moms is rated R.
Mother, Sophie (Maria Bello), wants nothing but the best for her children, but a dark past and presence surrounding the family including mental illness continues to cloud and blur the lines of reality until young son Martin (Gabriel Bateman) begins to see what might in fact be the real problem. Called in to help, big sister, Rebecca (Teresa Palmer), digs up the family history to further expose what's really going on, but stopping the darkness and bringing truth to light might just take their lives, how to find peace?
Spawned of a popular youtube short film with the same name, Director and Co-Writer David Sandberg successfully creates a fully contained dark ride for the summer that manages to flesh out an original concept that doesn't overstay its welcome, the film's runtime is a mere 81 minutes. More impressive, the film maintains it's fright factor well into the third act, typically the point where most horror films jump their spook shark and just go through the motions. Albeit, a few chunky plot omissions make for some rather boneheaded oversights if you actually stand back and think about the film; meanwhile, on the nose details are often spelled out too easily dumbing down the audience with unnecessary and cliche plotting. Regardless, the desired effect is reached and audience members will definitely think twice before they turn off the lights. Worth your time if horror's your thing, Lights Out is rated PG-13.
Comments Off

on Lights Out