Archive for December, 2016
On a spacecraft traveling at the speed of light to a distant planet a strange anomaly wakes Jim Preston (Chris Pratt) from his hibernative sleep pod,trouble is, the flight is only 30 years along on its 120 year journey; a bit later writer Aurora Lane (Jennifer Lawrence) finds herself awake as well. Now, with various systems failing on board the ship the two are tasked with saving the ship and saving themselves, many question marks hang in the balance, who and what will survive the journey?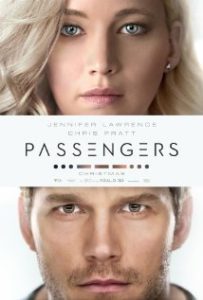 Written by Jon Spaihts and Directed by Morten Tyldum, this sci-fi adventure/semi romance has a the bones for a strong film and few fun psychological premises along the way but ultimately fails to really send our minds into the stratosphere as the film falls on conventional plot devices to drive its overall narrative. Still, nods to Stanley Kubrick's The Shining come to mind in several scenes involving Michael Sheen (the ships android bartender), telling and magic in their own right, but not enough to carry the whole film. So, paint by numbers it is in this quickly forgettable adventure. Passengers is rated PG-13.
Comments Off

on Passengers
A theatre owning koala bear named Buster (Matthew McConaughey) is down to his last few dimes when he's struck by a flash of genius, to re-spark interest in the theatre he'll hold the world's greatest singing competition. With the hopes of a big dollar prize on the line the hoards appear to perform in Buster's theatre. But naturally, sometimes showbiz is more promise than payoff, will this ragtag cast and crew be able to hold it together or will the bank repo the theatre and shut things down for good?
Written by Garth Jennings and directed by Christophe Lourdelet and Garth Jennings, this light family comedy big on song and earnestly filled with talent brings plenty of smiles from it's star studded cast; with character voices provided by A listers such as Reese Witherspoon, Seth MacFarlane, Scarlett Johansson, John C. Reilly, Taron Egerton, and Jennifer Hudson the musical and comedic potential is evident. And, while the story line doesn't provide the audience with any new angles, and the comedy isn't the most rapid fire in the bunch, there's still heart and rhythm in this animated gem. Quite simply, it's a simple story with a crowd pleasing review of solid hits, parents, for just a few minutes shy of two hours you've got your ticket to something the whole family can enjoy and not feel guilty about. Sing is rated PG.
Separated from his family by misadventure at age five, Saroo (Sunny Pawar, Dev Patel), a boy from West India finds himself over 1,600 miles from home wandering the streets of Calcutta. Orphaned and adopted to a family in Australia Saroo's life would be changed forever, some 25 years later a call to return to India and find his lost family would come screaming from inside, but finding home and who would be there, big questions that would loom large.
Based on a true story and directed by Garth Davis, this tactfully orchestrated heart string puller rings loud and clear for all who've ever questioned their belonging, their lot in life, or the fiber of their own origin. Pulling in weighty performances from Nicole Kidman and David Wenham as Saroo's adoptive parents, and Saroo's charismatic portrayal by young Sunny Pawar and Dev Patel shows tremendous strength in casting. Thoughtfully composed cinematography and subtle scoring makes for an even stronger film. For those looking to feel something this holiday season, this is your heartfelt winner. Lion is rated PG-13.