Archive for January, 2017
Following a course of reincarnation, a dog's spirit is left to question its purpose over several lifetimes and several owners, ultimately culminating in answers when finding the same owner twice, once as a boy, Ethan (Bryce Gheisar, K.J. Aha), and again as an adult (Dennis Quaid).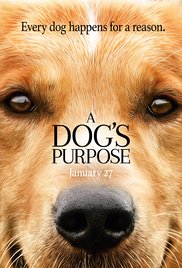 Directed by Lasse Wallström and based on the novel by W. Bruce Cameron this semi ecumenical/spiritual look to our furry best friends makes for a strangely emotional journey despite multiple counts of poorly scripted dialogue and cheese whiz narration provided by Josh Gad. Regardless, following the natural human desire to personify and psychologically impose belief structures on animals makes for enough chuckles and awwww's if you just "go with it," although, we're not witnessing high cinema here. Also of note, the filmmakers have received criticism from animal watch group PETA regarding the questionable treatment of one of the dogs involved in a particular water stunt on camera, a reaction that could possibly deter many film goers. Beyond the protests and the sappy sentimentality, audiences are left with a deliberate heartstring tugger that may be best as a rental, maybe a matinee if you're really pushing it. A Dog's Purpose is rated PG.
Comments Off

on A Dog's Purpose
Three girls, Casey, Claire, and Marcia (Anya Taylor-Joy, Haley Lu Richardson, and Jessica Sula) are abducted by a man (James McAvoy) who happens to be wrestling with Multiple Personality Disorder, 24 personalities to be specific. Imprisoned in a strange subterranean catacomb the girls must find their way out, lest they meet the Beast, a personality of their captor that seems to be bent on consuming human flesh. But, everything is not yet lost, some of the personalities the girls encounter can actually be of assistance, trouble is, who's who and what's what? Who will walk away?
Written and Directed by M. Night Shyamalan this semi-twisty semi-psychological thriller has a number of strong elements, perhaps the strongest is its ensemble. In particular McAvoy's fragmented portrayal of multiple personalities is as haunting as it is entertaining, and, Taylor-Joy's pained and brooding teen gives clarity as the two stand as the more principal actors of the ensemble. Sonically disturbing, score by West Dylan Thordson adds further discordant undertones throughout. But, pacing issues within the story seem to raise the boot from the neck of the viewer where further pressure or editing might have made a more impacting ride; regardless, Shyamalan's classic antics are alive and well received. Split is rated PG-13.
Partially told through the eyes of a quickly growing teenage boy, Jamie (Lucas Jade Zumann), three women are tasked with helping to raise Jamie to be a complete and rounded person. But, in many ways just as Jamie is learning from Abbie (Greta Gerwig), Julie (Elle Fanning), and his mother Dorothea (Annette Bening), they're learning from him and finding their own truths experiencing life, love, and freedom in Southern California in the late 1970's.
Written and Directed by Mike Mills, this semi-autobiographic look at his own upbringing makes for rich material as the ensemble digs in deep to show fully functioning three dimensional characters; complex, flawed, and compelling none the less. And, while the narrative arc of the film doesn't make giant swings, the film's intent to capture a moment in time and to expose the delicate intricacies of human behavior is well met by all. This is a gem worth seeking out. 20th Century Women is rated R.
Comments Off

on 20th Century Women