Archive for April, 2017
Dateline Boston 1978, two gangs meet in a warehouse for an arms sale of automatic weapons; but, with tensions high the deal goes sideways, lines are drawn and bullets are sprayed, who will walk out of this warehouse alive remains to be seen.
Directed by Ben Wheatley this dark comedic thriller leverages thin plot into maximum impact for an adventurous 90 minutes with a solid gold ensemble that includes Sharlto Copley, Brie Larson, Armie Hammer, and Cillian Murphy. Sharp tongued dialogue from Writers Amy Jump and Ben Wheatley also go the extra mile in delivering the goods and perhaps an award should go to the film for best use of ironic John Denver music. Fun to the last drip drop, Free Fire is rated R.
Comments Off

on Free Fire
Venturing into the corners and wilds of China, the lives of several of the nation's Pandas, Snow Leopards, and Golden Monkeys are detailed for just over a year; touching on the fragility of life and the strength of nature, each creature will be faced with their own hardships, and the circle of life will continue on crane's wings.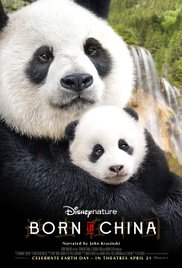 Narrated by John Krasinski, Director Chuan Lu carefully assembles the pieces to this naturally sweetened story successfully leaving saccharine out of the picture, instead offering a showcase to some of China's natural beauty. Family friendly, the film exposes some mild violence, but keeps the majority of nature's wrath at a dull roar. Fine as a matinee or rental later Born in China is rated G.
Comments Off

on Born in China
During the last days of the Ottoman Empire and during the first World War, mass genocide would take the lives of thousands of innocent Armenians. Caught in the battle, a young medical student Mikael (Oscar Isaac) finds himself part of a love triangle between U.S. reporter Chris Myers (Christian Bale) and accompanying artist Ana (Charlotte Le Bon). Sorting out the details of the heart, surviving the battle, and escaping a certain death, their road will not be an easy path, who will find themselves free of the Turks persecution?
Directed and partially written by Terry George, this historically accurate look to one of the most overlooked genocides in recent history is clearly a story that needs to be told. Unfortunately, rough pacing and almost too many moving parts keep this two hour and twelve minute history lesson obscured with less engagement than deserved; regardless, the ensemble gives a strong attempt at putting the pieces together just the same. Perhaps more suited as a rental later, The Promise is rated PG-13.
Comments Off

on The Promise