Archive for September, 2017
Recounting the drama and events surrounding the early 1970's Battle of the Sexes tennis event, a showdown between female tennis champ Billie Jean King (Emma Stone), and former tennis champ/hustler Bobby Riggs (Steve Carell). Both facing their own demons in a socially and politically slanted era, the end result of this tennis match would be a shock wave across America for a multitude of reasons.
Incredibly relevant and relate-able to the political climate of equality that continues to make headlines in present day, Directors Jonathan Dayton, Valerie Faris and writer Simon Beaufoy set up an insightful and well balanced look to a defining moment for women's rights and eventually sexual identity. Well matched and paired for their respective roles Stone and Carell work to effortlessly embody their characters, the driven and stoic Billie Jean King and over the top fast mouthed Bobby Riggs. And, with a supporting cast including Elisabeth Shue, Alan Cumming, Sarah Silverman, and Bill Pullman the pedigree bar is risen higher yet. A bit didactic in message by act three, the overall film shines bright regardless. Worthy of your time this weekend, Battle of the Sexes is rated PG-13.
Comments Off

on Battle of the Sexes
Based on the true events documented by Pilot Barry Seal (Tom Cruise), a slightly shady character who fully breaks bad to become wealthy beyond his wildest dreams while "legally" running guns, drugs, and secret intel between the U.S., Mexico, and Central America.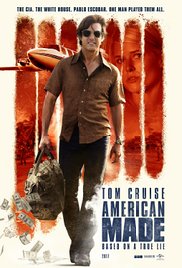 Director Doug Liman, and Writer Gary Spinelli come out swinging with this stylish look-back on the late 70's and early 80's proving that sometimes life is stranger than fiction and that Tom Cruise, when given well crafted material, is still a solid actor of bravdic male characters. Running just shy of two hours, this fast paced story is slowly measured and does feel a bit long crossing the finish line; still, this action/drama manages to serve as a crash course and inside scoop on U.S. politics for the period, unbelievable but sadly real. Strong in production value and overall shine, American Made appears to be poised as one of the weekend's front runners. American Made is rated R.
Comments Off

on American Made
Queen Victoria (Judi Dench), tired of monotony, pomp and circumstance, decides to make waves within the establishment by befriending a young Indian clerk, Abdul (Ali Fazal), this is their story together.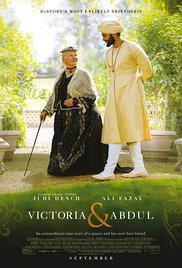 Directed by Stephen Frears and written by Lee Hall, this biopic look to what was almost a lost piece of recent history serves nicely to humanize the mythic Queen of England and give further insight as to what made her tick. Punctuated by strong performances from the entire ensemble including Eddie Izzard and Michael Gambon, this straightforward historical piece entertains as it informs making for an easy pleaser as we begin to swing around towards awards season once again. Get ready to whip out your British History family tree and do some learning. Victoria and Abdul is rated PG-13.
Comments Off

on Victoria and Abdul