Archive for May, 2018
Unlikely hero, the mildly dark and handsome bad boy of the stars, Han Solo (Alden Ehrenreich), frees himself from slavery and sets out to become a pilot; but, following orders and falling in line, not exactly a strong suit for this daring young daredevil. Meanwhile, the empire and crimson guard continue their advance from planet to planet, collecting resources and enslaving inhabitants, all the while an active black market secretly continues to thrive. Falling out of good grace with the empire, Han Solo finds himself aligned with a host of smugglers, thieves, and gamblers, members of the dirty side of the galaxy. In the underworld Han will meet notorious characters such as Lando Calrissian (Donald Glover), Chewbacca (Joonas Suotamo), Beckett (Woody Harrelson) , and Val (Thandie Newton), friends or foes, who's to say at this point, either way they'll have to work together to stay alive and pay off debts owed to Dryden Vos (Paul Bettany). And what of this old flame/love interest Qi'ra (Emilia Clarke), young Han has a lot of learning yet to do.
Directed by Ron Howard and Written by Jonathan and Lawrence Kasdan this perfectly predictable story offers up handfuls of fan fic pulp, offering up answers and origins to all things Solo– which might be interesting, if the surrounding story were more compelling and not so much of a spoon feeding of expectations. Respectfully, this is no small undertaking for Howard and crew, attempting to capture the bravado and gravitas of one of the Star Wars franchise's most beloved characters, the deck is already loaded for failure with a build up of over 40 years of anticipation, but certainly the Kasdan's could have come up with more driving ways to reveal key elements to Solo's character. As for the ensemble embodying our heroes this go round, shoulder shrugs, there are hits and misses, the end result is kind of a "humph," the same can be said for the film overall. Mercifully, at least we're not given a Jar Jar in this backstory. Solo: A Star Wars Story is rated PG-13.
Comments Off

on SOLO: A Star Wars Story
Edgy and irreverent, Wade Wilson/Deadpool, (Ryan Reynolds) finds himself in the odd predicament of having to protect a young mutant named Russell (Julian Dennison) from a strange and unusual foe, a time traveling mercenary from the future, Cable (Josh Brolin). Mildly outmatched, Wade assembles a team of unique mutants, the X-Force, to get the job done. Will Deadpool, Domino (Zadie Beetz), Negasonic Teenage Warhead (Brianna Hildebrand) and the rest of the X-Force have what it takes to make their mission a success, or will they all end up blown to bits? And, what about the love of Wade's life, Vanessa (Morena Baccarin), Fighting crime and maintaining a family is a tough balance, can he have it all?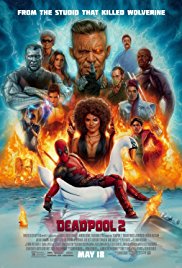 Directed by David Leitch and Written by a small army of maliciously funny individuals, Deadpool 2 does exactly what you'd want it to do, cut to the bone with snarky humor and a perfectly offensive non-discriminant edge; break the fourth wall and address the audience at inappropriate but perfect moments; slay the Marvel Cinematic Universe with the talents and sinister eye of an internet troll; and, watch the world burn. That is to say, if you loved Deadpool, You'll love Deadpool 2. This go round choreography and cinematography are impressively staged and visually compelling. Ensemble wise the film holds up surprisingly strong, and, cameo's from a number of unlikely Hollywood suspects add a handful of additional laughs. A slightly more complex story also keeps the film from becoming a total re-tread. It's humor at its darkest and sometimes most cathartic, no expense has been spared, and oh, stay all the way through the credits, because yes, end credits in the MCU are always special, this is no exception. Deadpool 2 is rated R, and for good reason.
Comments Off

on Deadpool 2
When middle aged mom and college dropout, Deanna (Melissa McCarthy), finds out her husband of 20+ years wants a divorce, she begins to take stock in her own life. Disappointed, Deanna decides to go back to college to finish her degree in archeology, trouble is, that means she'll be going to school along side her own daughter, Maddie (Molly Gordon), only slightly awkward. Making matters better but also more awkward, Deanna is taken in by Maddie's sorority sisters, resulting in a middle aged awakening for the ages, and what about this young buck that seems love stricken, Jack (Luke Benward)?
Directed by Ben Falcone and written by Falcone and Melissa McCarthy, this spirited comedy aims high but instead has more valleys than peaks offering little in terms of creativity and originality. While situationally fun in spurts and offering up plenty of charm, the film telegraphs its entire arc in a predictable manner without really stirring the pot or inspiring the viewer. Collectively, the ensemble does their best with the material before them, but again it's lack of story that proves to be too insurmountable to overcome, benign in its existence thankfully the film comes in sparingly short with a runtime of an hour and forty five minutes. Perhaps consider treating mom to something else this weekend and maybe catch this later on re-run….or not. Life of the Party is rated PG-13.
Comments Off

on Life of the Party