Archive for July, 2018
Years since the apprehension of super villain Solomon Lane (Sean Harris), Ethan Hunt (Tom Cruise) and the rest of his IMF team, Luther and Benji (Ving Rhames and Simon Pegg), are tasked with the acquisition of radioactive spheres destined to be sold to a terrorist group known as the Apostles, the disciples of Lane. Wary of the IMF team and their methods, the CIA forces Ethan and crew to bring along an agent of their own, August Walker (Henry Cavill). Friend or foe, who's working for who, eternal questions of the IMF and the CIA. And, now with the MI6 and Ilsa Faust (Rebecca Ferguson) getting involved, international relations will be tougher than ever. Stop the bombs and save the world, it must be Mission: Impossible.
Directed and partially written by Christopher McQuarrie, it's all about razor thin close calls, thrills, chills, and spills, in this return to Mission: Impossible lore. Stacking impressively choreographed fight sequences, one after another, that allow for heroes and villains to both get in their own share of licks, this cascading series of events effectively manages to induce enough seat squirming and armrest gripping to pass muster as one of the summer's strongest action flicks. Which, oh by the way, finds Tom Cruise running, a lot, with a dash of parkour. And, even though it's pretty easy to call out the plot twists well in advance, that doesn't stop the fun in watching this Rube Goldberg machine do its thing all the way to the charismatic-ally crashing end. Also, major props to whoever had to play the bongo drums in the scoring of this film….hands of steel. So, while this isn't the biggest thinking piece of the summer, it is still a lot of fun, and you deserve fun. Mission: Impossible – Fallout is rated PG-13.
Comments Off

on Mission: Impossible – Fallout
Former CIA operative Robert McCall (Denzel Washington) leads a life of seclusion with no trace of his violent past; but, as any man with a heart of gold, uses his talents as a killer to right the wrongs of the less fortunate or those in need of help. In this case, when McCall's former boss and only friend, Susan (Melissa Leo), is killed during an investigation abroad, it's time for the equalizer to do his thing, Spec. Ops killers around the world don't stand a chance.
Directed by Antoine Fuqua and written by Richard Wenk and Michael Sloan this amalgamation of Washington's greatest hits doesn't maintain an entirely even pace throughout, long lulls are met with fury. But, there's something to be said about that fury, when it's action time, the artful eye of Fuqua stages some brilliantly violent and satisfying action sequences; meanwhile, sharp cinematography works effortlessly to draw the viewer in deeper without distracting from itself. A bit preachy/father bearing at times with its message, one begins to recount dialogue from Fences (2016) for comparison, this is hardly a sin, but rather, Washington doing what he's developed a knack for, delivering a message with meaning in a way you won't easily forget. Fans of action you've got a pick for the week, even though it's typical in every other way, for the rest, consider this a strong candidate for rental later. The Equalizer 2 is rated R.
Comments Off

on The Equalizer 2
Following in the footsteps of her deceased mother Donna (Lily James, Meryl Streep), Young Sophie (Amanda Seyfried) learns about her mother's history, the fire behind her personality, and the men who would become her fathers.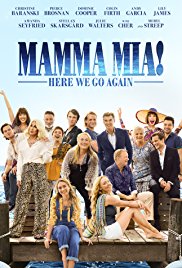 Directed by Ol Parker and written by Ol Parker and Richard Curtis this cinematic musical number stringing together a number of hits from Sweden's ABBA, the powerhouse dance phenom of the 70's and 80's. Playing as a sequel to 2008's Mama Mia, the film delves a bit deeper in the band's catalog to pick out a handful of tunes to drive the plot forward; sadly, the large majority of the numbers chosen to drive the first act aren't particularly memorable, but, further down the rabbit hole we go and the infectious fun of ABBA's music cannot be resisted, by acts two and three we've got a rip roaring time on our hands. Simple but well thought out choreography, cinematography and overall blocking complete the picture making the end result worthy of a handful of chuckles, a number of smiles as well as a sexually positive and empowering female message. Still, perhaps more of rental when the weather turns cold and you need some color in your life, Mama Mia! Here We Go Again is rated PG-13.
Comments Off

on Mama Mia! Here We Go Again