Archive for August 17th, 2018
A super secret military tactical unit run by the U.S. government find themselves in a particularly sticky situation as one of their informants, Li Noor (Iko Uwais), appears to know a lot more than he should for his own good; requesting extraction from his country and asylum from his own goverment, Noor could be the key to saving the world from a total meltdown on the nuclear front. Now it's up to Jimmy Silva (Mark Wahlberg) and the rest of his team to protect Noor, and get him literally 22 miles down the road to catch a cargo plane to safety.
Written by Lee Carpenter and directed by Peter Berg this late summer hammer smasher is out to jolt audiences with impressive fight sequences and death defying action, just one problem, editing. For all of its plot twists and turns, punches and kicks thrown, knives dodged, and bullets missed, the haphazard and analeptic cutting and re-pasting of scenes makes the overall experience hard to track and a bit exhausting. Meanwhile, for better or worse, the reasonably well obscured story line does manage to keep the audience guessing right up to the bitter end. So, while Wahlberg is delivering the goods pound for pound, it's too bad you wouldn't really know it. Bummer, perhaps worth your time as a rental later, just be wary of the super loud foley on your home speakers. Mile 22 is rated R. Say hello to your mother for me…
Separated from his tribe during a buffalo hunt, a young caveman, Keda (Kodi Smit-McPhee), must fend for himself, thwart off enemies, and find his way home– a quest that will ultimately result in the first symbiotic relationship between humans and canines; but, with winter coming will the two make it back to safety before the frozen earth saps them of their life force?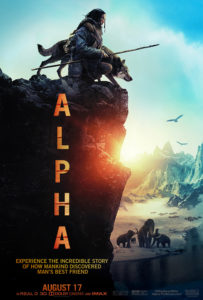 Written by Daniele Sebastian Wiedenhaupt and Directed by Albert Hughes this rudimentary "Hero's Quest" begins with a rather slow first act but does manage to pick up steam by its midway point to carry the audience through, what feels like, every possible natural disaster. Seamlessly blending CGI and cinematography this is an experience that will probably translate best on the big screen; and, even though the audience is spoon fed a checklist of well known dog tricks and behaviors, there's still a certain overall charm that's hard to deny. From an acting standpoint Smit-McPhee effectively jumps through all the hoops to sell the drama as believable, the rest of the ensemble fall right in line. Dog lovers, here's your anthropomorphized bone for the year, enjoy, just don't expect to remember much about the experience after the fact. Alpha is rated PG-13.