Archive for October 5th, 2018
Country music sensation Jackson Maine (Bradley Cooper) is a much loved force of nature. But, raised by his much older brother, Bobby (Same Elliot), Jackson is also a very troubled and tortured artist. Regardless, when a chance encounter with Ally (Lady Gaga), a bar room singer and waitress catches Jackson's ear and eye, it could be just the break the two were looking for; for Ally, musical fame, for Jackson, love and a place to call home. But, trouble in paradise seems afoot, especially when Ally's producer, Ramon (Anthony Ramos) gets in the mix, will their story be like so many other tinsel town romances, a flash in the pan, or will they have the power to endure as a star is born?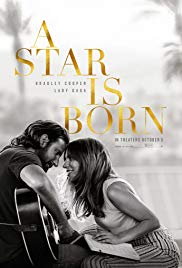 With Screenplay by Eric Roth, Bradley Cooper, and Will Fetters based on the story by William A. Wellman and Robert Carson and Directed by Bradley Cooper, this tried and true story strikes a chord once again landing as a solid drama with a carefully crafted script backed with several quality songs. And, proving her talents as a triple threat, Lady Gaga's performance nails a compelling ark whilst Cooper's sunset appears to be fading in perfect concert. Additional performances from Andrew Dice Clay and Dave Chappelle add extra flavor in unlikely ways. Interesting cinematography choices work further to carry the story forward, although some questionable editing of the "concert footage" does seem a bit forced. Still for Cooper, as a Directorial debut, this engine is clearly firing on all eight cylinders. Bottom line, audiences are in store for a rockin' two hours and fifteen minutes and an inspiration to pick up that dusty guitar sitting in the back corner of their closet. Worth your time, A Star is Born is rated R.
Comments Off

on A Star Is Born
When investigative reporter/bad boy Eddie Brock (Tom Hardy) falls on hard times, losing his job, losing his girl (Michelle Williams), and about to lose his place, the last thing he would need is a parasite to drag him down further; but, when an alien parasite/symbiote attaches itself to him, it may be the best thing to happen to him yet. But, where there's one parasite, there's more in tow, now the man responsible for bringing the parasites to earth, Carlton Drake (Riz Ahmed), is set on bringing even more of the creatures to earth, a future that looks bleak for the planet. It'll be up to Eddie and his parasite Venom to save the world, that seems like a great idea.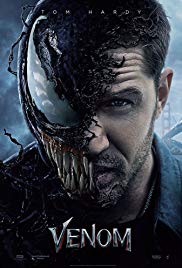 Written by Scott Rosenberg and Jeff Pinkner and Directed by Ruben Fleischer this tonally challenged comic/action flick appears to have the graphic novel fans split with a heavy leaning towards the negative side, and that's not totally unfounded. Overall the plodding script moves slowly to get to the "action." Even then, the unbalanced and haphazard emotional shifts we're asked to follow of Hardy don't ring consistent or genuine, and, the two female leads, Williams and Jenny Slate, are given little to work with just the same. Likewise the CGI work throughout the film lacks consistency and ultimately melts down in the final act to create a scene we've seen many times over, harumpf, there's not a whole lot of new material being curated here. On the positive, there are some effective dashes of comedy speckled throughout, but again, lacking consistency. The real hero here, Composer Ludwig Göransson and his valiant, notable score that keeps momentum in the face of adversity, well played sir, well played indeed. Overall, perhaps worthy as rental later, you can afford to wait for this a little longer, it's a shame Sony didn't heed this same advice to iron things out further along the way. Venom is rated PG-13.