Archive for November 9th, 2018
Hours before the D-Day strike on Normandy a fragmented platoon of American soldiers are tasked with the mission of destroying a radio jamming tower atop a church in a tiny French village. It's up to Boyce, Ford, Tibbet, Chase, Dawson, and Roesnfeld (Jovan Adepo, Wyatt Russell, John Magaro, Iain De Casestecker, Jacob Anderson, and Dominic Applewhite) to tackle the job at all costs. But, what about the strange happenings in the Nazi occupied church itself? Perhaps local resident Chloe (Mathilde Ollivier), can shed light on the matter?
Directed by Julius Avery and Written by Billy Ray and Mark L. Smith, this supernatural World War II spectacular contains a strange mix of Inglorious/Indiana/Private Ryan DNA spliced with its own soul to create a horrifically wonderful dark adventure that rings solid, even if we know the final destination well before our arrival at port. Ensemble wise, kudos to all round, not a sour note in the bunch. Jed Kurzel's perfectly haunting score sets up several addictive themes and movements to drive the action dagger deeper. Meanwhile, cinematography by both Laurie Rose and Fabian Wagner work in concert to bring this picture to its successful and frighteningly fun potential. Overlord is rated R for the win this weekend.
Computer hacker, righter of wrongs, protector of the weak and abused, Lisbeth Salander (Claire Foy), the girl with the dragon tattoo finds herself in deep with journalist Mikael Blomkvist (Sverrir Gudnason). As the two delve into the world of spies and world domination the battle will be more personal than ever, and just what exactly is the significance of the girl in the spider's web, Camilla (Sylvia Hoeks)?
Directed by Fede Alvarez and Written by Jay Basu and Alvarez, this left turn for the franchise that seemed to show promise offers a lot to appreciate as far as thrillers go, but, lacks the same vision, aesthetic, and inspiration as it's predecessors, both Swedish and American. That's not to say Claire Foy isn't trying her damnedest to keep things sharp, but, the cards are clearly stacked against her with a script that lacks a fresh take on the biker badass straight out of the 90's goth clubs of yesteryear. And, with bonus product placement throughout, one message to Sony Pictures, subtle gang, real subtle. This otherwise easily forgettable franchise somehow now finds itself on the shelf next to Resident Evil 1-7 and Underworld 1-6. So it goes. The Girl in the Spider's Web: A New Dragon Tattoo Story is rated R.
Comments Off

on The Girl in the Spider's Web: A New Dragon Tattoo Story
Charming as an eel, a bad banana with a greasy black peel, the grumpy Grinch (Benedict Cumberbatch) of Whoville is dead set on destroying the fun of Christmas, but with what success, and what will single mom Donna Lou Who (Rashida Jones) and daughter Cindy (Cameron Seely) have to say about the matter?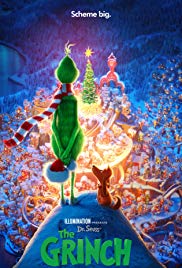 Directed by Yarrow Cheney and Scott Mosier and written by Michael LeSieur, based loosely on the book by Dr. Seuss, this absolutely unnecessary updating and recreation of an animated classic offers little to no sustenance or raison d'être. Sure, the textures and colors in this go round look pretty; but, a screenplay that breaks classic rhyming schemes and tosses imagery aside like yesterday's news robs much of the original Seussian charm to create a shell of what once stood proudly as the peak of of Bah Humbug, alas no more. Score and music by Danny Elfman, with inspiration from the original works is particularly un-inspiring, you did us dirty Danny, you did us dirty. Meanwhile Cumberbatch as the Grinch appears to be a misfire on all cylinders, the least casting director Barbra Harris could have done would be to match a voice equally gravelly to that of…oh…I don't know…Tom Waits, to fill the role, but no. So there, I hated it. BAH HUMBUG! The Grinch is rated PG.
Comments Off

on The Grinch