Archive for July, 2019
The year is 1969, and, closing out the Golden Age of Hollywood a fading but talented television actor, Rick Dalton (Leonardo DiCaprio), has his eyes set on making it to the silver screen; with good friend and stunt double, Cliff Booth (Brad Pitt), along for the ride it would appear the two are running into a torrent of change and trouble despite their best efforts. Meanwhile, Charles Manson (Damon Herriman), and the rest of the Manson family are cooking up a surprise for Rick's next door neighbors, Roman Polanski and his wife Sharon Tate (Rafal Zawierucha, Margot Robbie). The springs are coiled and the air is ripe with anticipation, there's no telling how this whole thing will unwind.
Written and Directed by Quentin Tarantino this all out love letter to Hollywood makes for a time capsuled smörgÃ¥sbord of revisionist history sparing no expense to recapture countless details of yesteryear. More than ever, the components of what makes Tarantino tick, the major influences of art, film, television, music and so on are on display with microscopic precision; but, lacking this go round, Tarantino's whip smart and pointed dialogue. This is a film about images, texture, and feel and less about words, which is unfortunate considering that Tarantino's dialogue has been the mainstay and driving factor in the vast majority of his previous works. And, scattered plot lines that take their time to develop unfortunately seem to run out of gas until the classic catastrophic Tarantino act 3. That's not to say the film is void of prestige and humor, there are in fact quite a few memorable and chuckle/laugh out loud moments, but with a run time of two hours and 41 minutes, a more judicious razor blade could have been applied to the final cut. The ensemble all round is spot on, and, a series of great exchanges between Pitt and DiCaprio sweeten the pot a bit more. Still, the film falls into the Saturday matinee or rental later category, for nostalgia's sake. Once Upon a Time …in Hollywood is rated R.
Comments Off

on Once Upon a Time …in Hollywood
A Chinese family learns that their matriarch, Nai Nai (Shuzhen Zhao), is terminally ill; but, instead of informing her of her condition, the decision is made to instead keep things a secret, thus allowing Nai Nai to blissfully live out her days surrounded by family in peace. Most challenged by the secrecy is granddaughter Billi (Awkwafina), split by the traditions of the East and her upbringing in the West, coming to terms with the whole scenario will not be easy.
Written and Directed by Lulu Wang, this endearing tale of family, culture, and interpersonal conflict ultimately digs to the core of love and the struggles and sacrifices we all can go through to protect the ones we love, even to the point of near shotgun weddings and bad karaoke. Splashed with universal comedy and strong deliveries from the entire ensemble, Wang's knack for telling heartfelt and honest stories rings loud and charms us from start to finish in this brief 98 minute examination of a cross-cultural divide that's ripe for the picking. Deep tissue massage for the soul (with cupping), the Farewell is rated PG.
Comments Off

on The Farewell
Having lost his partner in the line of duty, LAPD officer Vic Manning (Dave Bautista) is a man on a mission to track his partner's killer and serve justice. But, timing is everything, and, as luck would have it, an important break in the case that Vic's been waiting for comes in the same day he undergoes Lasik surgery. Blinded and out of control; Vic, a passenger-less tractor of a man is forced to improvise and recruit his meek but resourceful Uber driver, Stu (Kumail Nanjiani), in order to catch his man. It's braun plus brains, let the good times roll.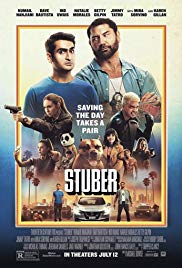 Directed by Michael Dowse and Written by Tripper Clancy this unassuming buddy cop romp takes the comedy factor to unexpected heights with fast and hard laughs from the word go; hitting off beats in just the right way, mixing comedic jabs high and low. Furthermore, the chemistry between Bautista and Nanjiani suits perfectly to play into each others strengths, physically and spoken. And, while the overall plot doesn't really do much to separate from the rest of the buddy cop pack, even falling a bit flat in the third act, we're charmed just the same, and, at a brisk 94 minutes of run time, welcome's are not overstayed. Just enjoy the ride, Stuber is rated R.