Archive for November, 2019
Detective Benoit Blanc (Daniel Craig) is tasked with the investigation surrounding the suspicious passing of Harlan Thrombey (Christopher Plummer), patriarch of the Thrombey family; but, getting straight answers out of the greedy and combative family members may prove to be his toughest match yet. Motives, actions, consequences, and who will be the heir to the Thrombey estate, all will be revealed!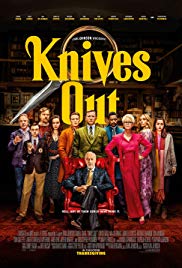 Written and Directed by Rian Johnson, this entertaining whodunit plays with force and tenacity as it twists and turns revealing secrets, heavy doses of ironic humor, and an incredibly well chosen ensemble of heavy hitters. Creative cinematography, often reaching to canted or low angle shots, and, thoughtful editing make this easily re-watchable romp visually interesting. And, sharp writing at the top of the list breathes a healthy lung full of life into a genre that has largely sat dormant and uninspired for years; Rian has clearly crafted a film that stems from a love of pithy sleuthing, and, rings all the bells for fans of the classic detective archetype. Not to be missed while we're all gathered this family holiday season, Knives Out is rated PG-13.
Comments Off

on Knives Out
A semi biographical window to Shia LaBeouf's experiences growing up as a child and early adult actor in Hollywood, struggling to reconcile a strained relationship with his father while dealing with his own mental health issues, this is his story.
Directed by Alma Har'el and Written by Shia LaBeouf this time shifting journey is a horrifying, torturous, and therapeutic work that despite its rough nature, comes across remarkably relatable and accessible to the viewer; an assist to empathy and an applaudable explanation to LaBeouf's destructive behavior as a young adult. Dancing in a neighboring lane to the works of Harmony Korine (Gummo, Spring Breakers), this visual game of chicken may prove challenging for some, but, with an all star ensemble of heavyweights, Lucas Hedges, Noah Jupe, and LaBeouf himself, this metric ton of talent loads the deck with an unbeatable hand. Absolutely worth the watch, if anything as one of the year's most accessible arthouse flicks. Honey Boy is rated R.
Comments Off

on Honey Boy
Called to an ancient enchanted land Anna, Elsa, Kristof, Olaf, and Sven the reindeer (Kristen Bell, Idina Menzel, Jonathan Groff, Josh Gad) set out into the unknown in search of the origin of Elsa's powers and perhaps a way to save the kingdom.
Directed by Chris Buck and Jennifer Lee with Screenplay by Lee this return to Arendelle digs deep to find the humor, joy, and musicality but ultimately comes out a little less catchy, a little less joyous, and a little more forgettable when placed toe to toe with its 2013 predecessor. Sure, crisp animation, art direction, and sound design all make notable impressions, but ultimately the film's success (or lack there of) comes down to songwriting, and, in this case it's the lack of hooky and memorable tunes that lowers the caliber of this attempt by several clicks. That's not to say the film is a waste or a wash, but, following the cues of successful American Musical Theatre, audiences need two or three strong memorable tunes to really make inroads, in this case we're given one and a half. That in mind, there's still plenty to laugh at, and Gad's quirky Olaf manages to steal every scene he's in, just don't expect the massive onslaught of Frozen II musical hits to permeate your holiday experience this year, then again, maybe that's okay. Still a fun matinee for the family. Frozen II is rated PG.
Comments Off

on Frozen II