Archive for November 28th, 2019
Detective Benoit Blanc (Daniel Craig) is tasked with the investigation surrounding the suspicious passing of Harlan Thrombey (Christopher Plummer), patriarch of the Thrombey family; but, getting straight answers out of the greedy and combative family members may prove to be his toughest match yet. Motives, actions, consequences, and who will be the heir to the Thrombey estate, all will be revealed!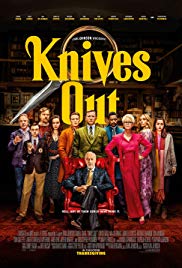 Written and Directed by Rian Johnson, this entertaining whodunit plays with force and tenacity as it twists and turns revealing secrets, heavy doses of ironic humor, and an incredibly well chosen ensemble of heavy hitters. Creative cinematography, often reaching to canted or low angle shots, and, thoughtful editing make this easily re-watchable romp visually interesting. And, sharp writing at the top of the list breathes a healthy lung full of life into a genre that has largely sat dormant and uninspired for years; Rian has clearly crafted a film that stems from a love of pithy sleuthing, and, rings all the bells for fans of the classic detective archetype. Not to be missed while we're all gathered this family holiday season, Knives Out is rated PG-13.
Comments Off

on Knives Out