Archive for September, 2021
For those who've ever contemplated the interconnected nature of all things, the meaning of life, what it is to be sentient, or what is consciousness and how does one begin to explain it, Aware: Glimpses of Consciousness begins its roadshow in theaters this weekend with a mind set on exploring these very topics.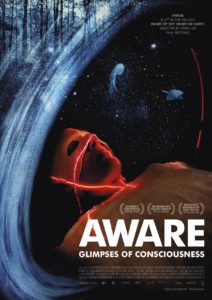 Building on the knowledge bases of science, religion, holistics, psychedelics, and nature, Directors Eric Black and Frauke Sandig explore these big questions in careful methodical order, but, as any good student of philosophy knows, the answers to one question typically result in more questions. And, similar to works such as What the Bleep do We Know? (2004) and Tom Shadyac's I Am (2010), the distillation of the living experience continues to be a fascinating exploration in a myriad of directions, seeding and feeding strong discussion and continued thought well after viewing. Worthy of your time, and something to keep an open mind for, this hour and forty two minute documentary may just make you a believer yet.
Comments Off

on Aware: Glimpses of Consciousness
Born in Korea but adopted and raised by an American family in Louisiana, Antonio LeBlanc (Justin Chon), is a husband to Kathy (Alicia Vikander) and hard working father of Jessie (Sydney Kowalske), just trying to make ends meet. With another baby on the way, Antonio is under more pressure than ever to provide for his family; now, with the discovery that his adoptive parents never finalized his paperwork as a child, he faces deportation back to Korea. Maintaining residency in the U.S. will require soul searching of monumental proportions, but what if it's already too late?
Written and Directed by the film's lead, Justin Chon, this story explores the complexities of giving love, being loved, hope, and learning how and when to let go; all the while, excruciating in its descent and raising awareness to a problem within the system here in the U.S.. Strong points to the ensemble overall, and, particular positive notes to new comer Kowalske, no doubt a rising star. Narratively strong, the only false tones go to the blockish and heavily stereotyped writing that surrounds law enforcement, past that, Chon is clearly coming into his own as a filmmaker and one to watch come awards season. Checking the checkbox of tragedy and worth your time this weekend, Blue Bayou is rated R.
Comments Off

on Blue Bayou
While interned in the United States Disciplinary Barracks for war crimes at Abu Ghraib, Private First Class Tillich, now self titled Willam Tell (Oscar Isaac) developed the unique ability to count and track cards in casino games. Now a professional gambler, Tell finds himself wanting to assist Cirk (Tye Sheridan), the son of a fellow soldier, attempting to set him on a more promising path. Meanwhile, former Commanding Officer Gordo (Willem Dafoe) seems to be taking up more and more real-estate in the minds of both William and Cirk, absolution will only come from dramatic action, but, that might also come in the form of a force tilt.
Written and Directed by cinematic heavyweight Paul Schrader (Raging Bull, Taxi Driver, First Reformed), this study of a tortured soul, while familiar territory, is a masterpiece of composition and execution for both Schrader and Isaac. And, artistic direction and scoring brilliantly work to create a memorable aesthetic, churning and roiling as action unfolds at its metered pace, much the way a card shark rolls out one devastating hand at a time. Oddly discordant and perhaps mis-directed though, Tiffany Haddish's performance as La Linda, the gambler's broker, appears to be the roughest page to tame in this tale needing more polish to reach perfection. Regardless, this thinking piece begs for a second watch to catch the intricacies and full subtext. Worthy of your time this weekend, running one hour and forty nine minutes, The Card Counter is rated R.
Comments Off

on The Card Counter