Archive for October, 2021
When Eloise (Thomasin McKenzie), an aspiring fashion designer and clairvoyant discovers a portal that leads to the 1960's in her apartment, she also discovers her muse, Sandy (Anya Taylor-Joy), a hopeful singer and lounge act. But, first glances through the looking glass begin to turn dark as the seedy underbelly of Soho begins to reveal itself. Now, bending through time Eloise sets out to right the wrongs of yesterday, an act that may seal her fate to an untimely doom.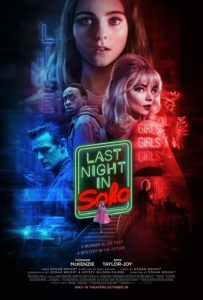 Written by Edgar Wright and Krysty Wilson-Cairns and Directed by Edgar Wright, this time hopping, sci-fi, horror, whodunit sets up to become the thrilling roller coaster you didn't see coming; lulling you with fantastic colors, images, and soundtrack until the bottom drops out…and you like it. Sharp in its production design and cinematography Wright continues to flex his ability to immerse the audience within the ephemera of the U.K., the charming English pub, and the blaring nightclub. But, it's mixed results in the end, even following the Wright formula of Act III in chaos, and resolution, the final twist feels a bit unearned, perhaps too cheeky for it's own good? That aside, there's lots to like about and soak in on this ride, step right up! Running just shy of two hours, Last Night in Soho is rated R.
Comments Off

on Last Night in Soho
Years after a High School mass shooting event, an arranged meeting between two sets of parents takes place to heal and find closure. But, finding forgiveness and peace will not come easy for any of the parties involved.
Written and Directed by Fran Kranz this remarkably moving and painful drama explores multiple layers of how and why we grieve, guilt, anger, and the importance of which memories of the deceased we carry. Deceptively simple in its construction this tour de force of acting allows for each of the four principles, Martha Plimpton, Ann Dowd, Jason Isaacs, and Reed Birney to each embody metric tons of empathy and compassion surrounding a subject that's become all too commonplace in America, and, expose multiple perspectives discussed less often in public. Breathtaking at multiple points throughout its hour and fifty one minutes of runtime, for audiences looking to feel something "real" this weekend, this is your ticket. Mass is rated PG-13.
Hailing originally from the Liberty, Kansas Evening Sun, publisher Arthur Howitzer Jr. (Bill Murray) has assembled a staff of crack writers for his publication The French Dispatch. A weekly report on the subjects of world politics, the arts (high and low), fashion, fancy cuisine/fine drink, and diverse stories of human-interest set in Ennui, France. At the time of his death, Howitzer Jr. left implicit instructions regarding future proceedings and what the last edition would contain, this is a detailed account of said contents.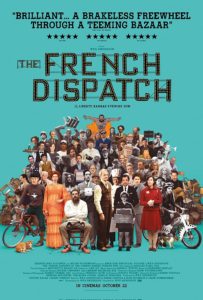 Written by Wes Anderson, Roman Coppola, and Hugo Guinness and Directed by Wes Anderson, this ridiculously detailed and hilarious glance through the looking glass at "Ennui, France, Planet Wes World;" features a well known cast of regular Anderson players including Benicio Del Toro, Adrien Brody, Tilda Swinton, Frances McDormand, Owen Wilson, Edward Norton, Jason Schawrtzman and many more, each character carefully picked and placed to embody what can only be described as a brilliant barrage of interpreted French ephemera. Sharp dialouge and visuals, as per the usual, demands and commands a second viewing to catch every nuanced detail. And, score by Anderson favorite Alexandre Desplat adds the extra cherry on top to bring this feature together with the perfect splash of whimsy and colour. This is an experience not to be missed, running one hour and 48 minutes, The French Dispatch is rated R.
Comments Off

on The French Dispatch